You can grow your dream garden without it becoming a full-time job or a money pit.
Ever feel like you spend a lot of time and money on your garden and never have enough time to enjoy it?
Every time you turn around, there are more weeds to pull, plants to maintain, and beds to plan and plant. And you wonder, how will I ever get it all done?
You know you want a garden that fits into your lifestyle, wows your neighbors, and makes your family say "more veggies, please!"
You know you need to stop throwing money away on plants that die, gardening products that don't work, and vegetables you don't eat.
And you know that if you don't get smarter about how to garden, you'll keep wasting money and spending too much time maintaining your garden.
But you don't need more hours in the day or a bigger gardening budget to grow your dream garden.
I believe that with a few smart strategies and a little know-how, you can grow your dream garden and still have time to enjoy it.
Together, we'll create a gardening system that saves you time, money, and frustration.
"Thank you for the time and effort you're putting in and providing us with such valuable information. The September and November checklists were a big help for me to finish all the tasks in my garden."
"I'm a college student pursuing my career as a Landscape Architect. Here in Texas, it's still cold. I'm interested in ways to take care of my garden during winter that Simply Smart Gardening has taught me from the articles I've read. Thank you!"
Imagine sitting in your garden, and feeling relaxed.
The lawn is trimmed, your flower garden is in full bloom and buzzing with pollinators, and there are as many heirloom tomatoes in your vegetable garden as you can eat.
There's nothing you need to do in your garden right now except savor it.
You have time to listen to songbirds sing, watch butterflies alight on the flowers you've lovingly cultivated, and enjoy a leisurely family meal on your patio.
You finally have a beautiful, flourishing garden, but you didn't have to spend all your free time making it that way!
You CAN figure this gardening thing out even if you
can't keep up with the weeds
are new to gardening
don't know what you should be doing when
struggle to grow plants that thrive
never have enough time to maintain your garden
My story is proof…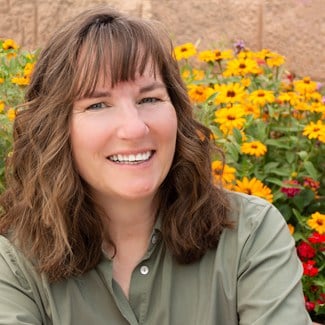 Hi! I'm Cheryl.
This is my story.
Weeds and all.
For as long as I can remember, I've wanted to grow a garden. When I bought my first home, the yard was both exciting and scary.
Aside from a few ragged rose bushes, turfgrass covered every square inch.
Could I turn this blank slate into a garden I'd be proud of, something that wouldn't embarrass me in front of my new neighbors?
Determined to make it work, I read gardening books constantly. I planned. I planted. And I watched my garden grow.
But after a few seasons, it got away from me. The weeds took over, some plants didn't make it, others got out of control, and I couldn't get everything done by the end of the season.
One hot summer day, as I bent over to pull yet one more weed, it hit me. I needed better strategies, not more random tips. I began keeping records of what worked and what didn't. And I became a certified gardener.
And, most important, I created systems that improved how I garden.
Now, I spend far less time working in my garden, waste less money on it, and have more time to appreciate its beauty. With the right strategies and a bit of know-how, you can have more time to enjoy your garden too.
You can grow your dream garden, and here's how I can help.
The articles I write, freebies I create, and courses I teach are all designed to help you spend less time working in your garden, so you have more time to enjoy it.
Need some help getting started?
"Cheryl – I enjoy your freebies, Pinterest boards, and articles a lot. Thank you for sharing those and for offering your help." – Vicky
"Please keep sending me your weekly emails! All your tips and checklists are so valuable to me." – Heather
Are you ready to have more time to enjoy your garden?
When you join my community of smart gardeners, you'll discover simple techniques and smart strategies, that'll help you grow your best garden ever.
Let's stay in touch!
I love to hear from readers! Is something holding you back from reaching your gardening goals? Let me know, I'd love to help!
You can connect with me on Pinterest or Facebook, or send me an email right now.
You CAN grow your dream garden and have time to enjoy it.
When you become a member of the Simply Smart Gardening community, you'll discover smart ways to save time and money, reach your gardening goals faster, and have more time to enjoy your garden.