The Best Vegetable Gardening Books for Busy Gardeners

By: Cheryl Spencer
Inside: The best vegetable gardening books.
---
Picture this. You decide to find out more about growing your own food. So, you sit down at your computer, head over to Amazon, and type in "vegetable gardening books."
As the results load, you close your eyes and sigh.
There are too many books to choose from!
You think to yourself, "I don't really want to read through hundreds of reviews to find the right book. Can't someone just tell me what the best book is?"
Luckily, since you landed here (instead of Amazon). You won't have to scroll through countless reviews, hope the books you ordered live up to the hype, or waste time dusting books you never use …
…Because I'm always on the lookout for the most helpful books.
The ones you reach for so often, they're never on the bookshelf.
The ones that are well-loved because they're filled with expert advice.
The ones with dirt smudges on the most important pages.
And I'm excited to share them with you!
I own a lot of books about vegetable gardening, but all of them didn't make it onto this list. The list below is the cream of the crop, the ones that have made me a better gardener.
What is the best vegetable gardening book?
✅ My top pick, the book I consider the best book out of all the books on this list is The Vegetable Gardener's Bible. It's an essential guide filled with expert advice and will help beginning and experienced gardeners grow an amazing edible garden.
If you could only have one book, this is the one to get!
What makes this list of books different?
I've read and used all the books on this list.
Plus, I have high standards for gardening books. There are plenty of so-so books out there, but you won't find any here!
The top 3 vegetable gardening books every gardener should own
Related: The Best Books for Beginning Gardeners
The best books for growing year-round
The best books for small spaces
Here are three books that answer the question, "How do you grow vegetables in a small space?"
The best vegetable gardening books for experienced gardeners
The best books on specific crops
The best book for planting a sustainable garden
The best vegetable gardening books for urban growers
The best book for gardens in challenging environments
The best books for self-sufficient, organic gardening
The best vegetable gardening book for growing in cold climates
Related: Smart Gardening Checklists – Always know what to do in your garden and when.
The best book on raised beds
Share your picks for the best vegetable gardening books
Did I miss any great books? What is your favorite book? Share in a comment below!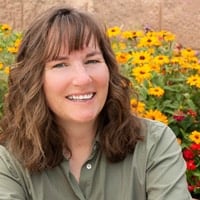 Hi, I'm Cheryl.
I'm a certified gardener, bird lover, and spreadsheet enthusiast. I believe you can grow your dream garden and still have time to enjoy it. I teach online gardening courses and write articles that help you save time and money in your garden. Join my mailing list, and as a bonus, you'll get a helpful checklist that'll tell you what to do in your garden right now.