23 Best Vegetable Gardening Books – Grow Like a Pro in 2023
INSIDE: Want to grow your own vegetables and have fresh veggies all season? Check out this list of the best vegetable gardening books chosen by a certified gardener. Get growing right now!
---
Picture this. You decide to find out more about growing your own food.
So, you sit down at your computer. You head over to Amazon, and type in "vegetable gardening books."
As the results load, you close your eyes and sigh.
There are too many books to choose from!
You think to yourself, "I don't really want to read through hundreds of reviews to find the right book. Can't someone just tell me what the best book is?"
Luckily, you landed here (instead of Amazon). So, you won't have to scroll through countless reviews, hope the books you ordered live up to the hype, or waste time dusting books you never use …
…Because I'm always on the lookout for the most helpful books.
The ones you reach for so often they're never on the bookshelf.
The ones filled with expert advice.
The ones with dirt smudges on the most important pages.
I own a lot of books about vegetable gardening, but all of them didn't make it onto this list.
This is the cream of the crop, the ones that have made me a better gardener. The ones I refer to again and again.
Keep reading to uncover the best books on growing vegetables!
Short on time? Jump to the vegetable gardening books that interest you most:
This post contains Amazon affiliate links. As an Amazon Associate, I earn from qualifying purchases. So, I may get a small commission if you buy something after clicking through. I only link to products I would recommend to my best friend.
What is THE BEST vegetable gardening book?
✅ My top pick, the book I consider one of the best vegetable gardening books of all time, is The Vegetable Gardener's Bible (Amazon link).
It's an essential guide filled with expert advice and will help beginning and experienced gardeners grow an amazing edible garden.
If you could only have one book, this is the one to get!
The top 3 vegetable gardening books every gardener should own
With plenty of tips, tricks, and reliable advice, these books will have your vegetable patch flourishing in no time!
by Edward C. Smith
As I mentioned above, this is my top pick.
Here's why…
When you follow the author's W.O.R.D. system (Wide rows, Organic methods, Raised beds, and Deep soil), you'll cultivate deep, healthy soil. Soil that nourishes your plants and discourages pests and disease.
The result? Fewer weeds, healthy plants, and tons of delicious vegetables! Because, as all successful gardeners know, great gardens start with the soil.
I recommend this book to everyone who wants solid advice about organic gardening.
Because even after gardening for over 30 years, I still thumb through The Vegetable Gardener's Bible (Amazon link) every season for tips and inspiration.
And it's one of the best vegetable gardening books for beginners!
by David Deardorff
When you're growing vegetables diagnosing plant problems can be frustrating!
Is it insects? Disease? Or a nutrient or cultural problem?
What's Wrong With My Vegetable Garden? (Amazon link) will help you get to the root of the issue quickly and find solutions. It also includes photos of common problems, which makes identification easier.
This makes it a good gardening book for beginners.
When your plant is in a pickle, this should be the first book you pick up!
by Joseph Smillie
The Soul of the Soil (Amazon link) is for you if you want to understand your soil better and improve your garden's growth and health.
The first half of the book explains soil science in clear, understandable language.
And the second half is chock full of hands-on tips for building up the organic levels of your garden soil. It has many useful charts on creating quality compost, using green manures, understanding nutrient balances, and soil testing.
The best books for growing year-round
by Eliot Coleman
If you've always assumed that you have to stop gardening during the winter months, get ready to have your mind blown!
In the Four-Season Harvest (Amazon link), you'll discover you can successfully grow a variety of vegetables over the winter using simple equipment like cold frames and plastic-covered tunnels (without supplementary heat).
You'll get tips on choosing the best winter-hardy varieties and earth-friendly tips for making your winter season as productive as possible.
Bonus: the handy planning charts will help you create your perfect planting schedule. These alone are worth the price of admission!
by Peter Burke
With Year-Round Indoor Salad Gardening (Amazon link) by your side you can grow fresh nutrient-dense microgreens indoors at any time of the year (including winter!) with simple, inexpensive equipment.
The author is a busy professional who wanted to grow greens during the winter despite his busy schedule. So, he's thoughtfully included instructions on what to do when your schedule goes haywire, and your indoor crops get neglected.
If you've tried growing sprouts in jars before and haven't succeeded, this book is for you. Just follow the step-by-step instructions, and you'll have your first crop of microgreens in less than 10 days!
The best books for small spaces
Here are three books that answer the question, "How do you grow vegetables in a small space?"
by Amy Stross
The Suburban Micro-Farm (Amazon link) will help you turn your suburban lawn into a productive garden. With a friendly, relatable style, the author shows you step-by-step how to get a lot of vegetables out of a small space.
She lives on a tenth of an acre, so she knows all the tricks for cultivating a productive urban garden. And she tackles difficult situations like shady and sloped yards. You'll learn simple techniques to create soil that's full of life and harness rainfall rather than let it drain into city sewers.
She profiles many types of vegetables and herbs and explains how to grow them. From selecting seeds to garden maintenance, watering, pest control, and harvesting, you'll learn helpful strategies to create your own micro-farm, no matter how busy you are or small your lot is.
by Mel Bartholomew
The All New Square Foot Gardening (Amazon link) shows you how to garden in square foot blocks of space instead of rows.
Growing this way requires less thinning, weeding, and watering.
It's the perfect way to get the most out of small spaces.
It's also a fun way to grow.
And it's easy to get started if you're a beginner.
You also get a lot of tips on vertical gardening, which will help you save space.
Square foot gardens need just 20% of the space of a traditional garden. By creating a square or rectangular garden bed divided into grids, you'll get more results with less work.
When you get away from the mindset of planting in rows and embrace square foot gardening, you'll be able to grow more in less space than you ever imagined!
by Edward C. Smith
Have limited or no space for a garden? Container gardening is the perfect way for you to enjoy homegrown produce.
This book will help you create an abundant mini garden in containers.
Whether you lack the space for an in-ground garden or want to add pots to your deck, porch, or patio, The Vegetable Gardener's Container Bible (Amazon link) has you covered! This book is proof that everyone can grow some edibles, including apartment dwellers.
You'll learn how to choose the right plants, select the best containers, care for your plants, and control pests organically. The author has included helpful plans for small-space container gardens – perfect for urban and suburban growers.
The last third of the book is a list of vegetables, herbs, and edible flowers with detailed descriptions and advice for how to grow them in containers.
When you're new to gardening, container gardening is the perfect way to get started!
Books for experienced gardeners
The key to successful vegetable gardening is to learn from the experts. And the best way to do that is to read the best books on growing your own food.
by Matt Mattus
Mastering the Art of Vegetable Gardening (Amazon link) will help you discover new, rare, or unusual varieties of common crops – all while learning about their fascinating history and their benefits.
Even if you're an experienced gardener, you'll find at least a few new must-have edibles to grow in your own veggie garden. From planting to picking and processing, this book covers it all step-by-step. So, you'll know exactly how to grow your new finds.
As a bonus, It's full of inspiring photos that'll have you dreaming about how beautiful your next veg garden will look!
by Carol Deppe
Becoming a plant breeder is deeply rewarding because it allows you to grow vegetables tailor-made for your needs. Breed Your Own Vegetable Varieties (Amazon link) shows you not only why you should breed your own varieties but how to go about it.
This is an easy-to-understand and complete guide filled with many tips on saving seeds that'll help you breed garden vegetables to meet your specific needs. Want a drought-resistant tomato that ripens early? This book, written by a Harvard plant geneticist, will help you get there!
by Craig Lehoullier
To grow the tastiest tomatoes in your neighborhood, pick up a copy of Epic Tomatoes (Amazon link). You not only get the author's ranking of the ten best-tasting varieties, but you also get a guide to which ones you might like based on your own tastes.
This beautifully photographed book gives you a lot of information about heirloom varieties, including their histories and instructions for growing and when to pick them.
It's thorough without feeling overwhelming.
Tomato lovers will feel inspired to try a few new varieties after leafing through this comprehensive guide!
by Amy Goldman
The Melon (Amazon link) is a beautiful book filled with melon-y goodness. As at home on your coffee table as on your bookshelf, it's filled with stunning photos, the latest research, and detailed descriptions of each melon.
You can almost taste the sticky, messy sweetness of each one. (If only it came in a scratch-and-sniff version!)
Inside you'll find in-depth discussions of producing and picking your melons. She also includes helpful seed-saving tips. With many fascinating stories, histories, and anecdotes sprinkled throughout, it's a hard book to put down and makes the perfect gift for melon enthusiasts!
by Ron L. Engeland
With hundreds of cultivars to choose from, an in-depth guide like Growing Great Garlic (Amazon link) will guide you through the garlic wilderness. It's my go-to garlic book!
This comprehensive handbook covers garlic's history and how to plant, cultivate, care for, cure, and store it. You'll discover everything (and then some) that you need to know to grow garlic in your backyard successfully. This book will satisfy the appetites of garlic lovers everywhere!
by Wendy Kiang-Spray
The Chinese Kitchen Garden (Amazon link) is full of practical tips organized by season. Each vegetable comes with a brief description of its use in the kitchen. And you'll also find many of the author's family recipes in the book.
It's a useful kitchen garden book and a loving take on Asian vegetables and cuisine from a knowledgeable and passionate grower.
Even if your winters are too harsh for lemongrass or ginger, spring and autumn are perfect for Asian mustards and cabbages!
Related: Smart Gardening Checklists – Always know what to do in your garden and when.
Books for urban growers
Here are my favorite books that answer the question, "How do you grow vegetables in a small urban or suburban lot?"
Related: Can you save leggy seedlings?
by Rosalind Creasy
Edible Landscaping (Amazon link) takes an in-depth look at how to grow an edible home garden that looks as good as it tastes. It's filled with practical advice, including how to prep your soil, choose the best plants, make a plan, and complete your garden design.
All types of edibles are covered, including herbs, vegetables, fruits, berries, nuts, flowers, and grains. There are multiple extensive appendices with lists of edible plants, including those best for small gardens, planting and maintenance tips, and pests and diseases.
The detailed index of plants is a valuable resource. But one caveat is that some plants in the book will only survive in warmer growing zones (zone 6 and up). Even so, this is one of the most comprehensive guides available on edible plants and is worth the investment.
Related: Find the best books on growing fruit trees here.
by Carleen Madigan
The Backyard Homestead (Amazon link) gives a good overview of different homesteading practices.
Topics covered include organic gardening, preserving, making cheese, raising and processing grains, baking bread, and even brewing beer – all on a ¼ acre or less.
When you pick up a copy of this book, you can provide your family with an abundance of food all year long!
by Lee Reich
Who wouldn't want to add more beauty to their landscape and organic fruit to their table? In Landscaping with Fruit (Amazon link), you'll learn how to add the right fruits to your landscape. It has helpful pointers on plant selection, pest control, pruning, and harvesting, which makes it a great choice for beginners.
While this book doesn't cover every fruit out there (for some reason, raspberries are absent!?), he recommends 39 types of fruit (some uncommon) that are well-suited to home gardens. A handy chart details the yields, hardiness zones, pollination needs, landscape uses, and ornamental qualities of each plant.
With this book, you'll be growing tasty fruit in no time!
Books for gardens in challenging environments
by Ron Kujawski
This is one of the most popular gardening books for northern growers.
If you live in a cold climate, The Week-by-Week Vegetable Gardener's Handbook (Amazon link) will help you manage your schedule and keep track of essential tasks like seed starting and planting dates.
The book helps you plant at the correct time and reminds you what to do each week (based on your last frost date). Many people like this stress-free approach. Depending on where you live, you may have to tweak things so the tasks align with your garden's needs throughout the year.
If you aren't sure what to do when in your garden, this book is perfect for you! You'll find yourself revisiting this book year after year.
by Maureen Gilmer
Growing Vegetables in Drought, Desert & Dry Times (Amazon link) is perfect for gardeners who want to grow organically in dry climates.
The author takes a water-conscious approach and shows you how to have a productive garden — even in times of drought.
She includes varietal recommendations and a seasonal crop guide to help you plan your garden and set realistic expectations. It's the best book for growing vegetables in arid climates.
Books for sustainable, organic gardening
by Acadia Tucker
Growing Perennial Foods (Amazon link) isn't just a useful book. It's also well-written with charming illustrations.
In this easy-to-use guide, you'll discover the benefits of perennial edibles. These hardy plants can withstand extreme weather conditions, which sadly are becoming more common for all of us.
You get detailed profiles of 34 perennial plants, with helpful instructions on how to plant, grow, and harvest them. Not all of them are cold-hardy (some will only survive in zone 6 or warmer). But this is the best book about perennial vegetables I've seen.
As a bonus, the author also included 34 recipes. And the ones I've tried have been delicious!
by Carol Deppe
The Resilient Gardener (Amazon link) will inspire you to design your garden to withstand hard times. This includes natural and personal disasters that can affect how well our gardens grow.
The book focuses on 4 crops (and one animal) that should see home growers through hard times: potatoes, corn, beans, squash, (and ducks/duck eggs).
The author is a plant breeder, so her guidance on selecting varieties, seed-saving, and pollination is super helpful. And she includes instructions on garden layout as well as planning and storing, and cooking/preserving your harvests. This book will help ensure your garden thrives and stays productive, even when life doesn't go according to plan.
Best book for raised bed gardening
Raised bed gardening is a great way to improve your yields. But it's important to equip yourself with all the knowledge you'll need about planting and maintaining veggies in raised beds.
by Tara Nolan
Raised Bed Revolution (Amazon link) will help you design a raised bed garden you love. Whether you're dealing with horrible soil or a physical condition and want a garden at a more accessible height, this raised bed gardening book is the guide you need.
You get numerous plans for raised beds with detailed instructions, a list of materials, and step-by-step photos. It also covers what to fill your new beds with and how to fill them.
While it doesn't cover how to grow in raised beds in great detail, it's an indispensable source for anyone looking to build a raised bed garden.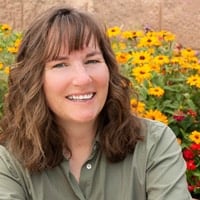 Hi, I'm Cheryl Spencer, a Certified Gardener.
Born with a plant addiction that has no known cure, I became a Certified Gardener to help ease the symptoms. Now I write articles and create gardening products that help you save time and money in your garden. I believe you can grow your dream garden and still have time to enjoy it. The good news? Anyone can do it. Start here »