Seed Starting Rack Plans: Easy to Make Indoor Grow Shelves
Set up an indoor seed starting rack in an afternoon!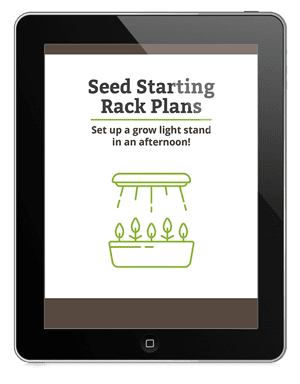 "This is the grow light setup I've been looking for!"
— Jenirae M.
You know that starting your own seeds is a great way to save money on transplants and grow varieties you can't find at your local nursery.
But to successfully start seeds indoors, you need an adjustable starting rack with grow lights to avoid leggy seedlings.
And pre-fab seed starting racks are expensive!
My easy-to-follow printable plans make it simple and affordable to create your own adjustable seed starting shelves.
You'll be able to grow thousands of healthy seedlings with this indoor growing rack that takes up only eight square feet of floor space.
And the best part? There's no saw required!
Your printable grow rack plans include:
Helpful tips for setting up your stand and grow lights.
A supplies checklist so you have everything you need to get started.
Complete plans with setup notes so you can quickly set up your seed starting shelves.
Enter your best email address below to get started.👇
Plus, you'll get seasonal gardening tips when you sign up. (Don't worry, I won't flood your inbox).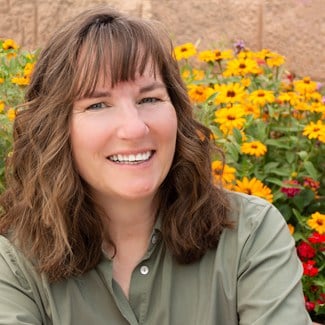 Hi! I'm Cheryl, your seed starting sensei.
You can grow lots of healthy seedlings by starting seeds indoors.
But pre-fab adjustable seed starting racks can be expensive.
And DIY seed starting shelves made from wood or pvc aren't adjustable.
So, I came up with an easy-to-set-up, and less-expensive DIY grow light stand.
I created these plans so you can have the same setup I've used for years to grow thousands of healthy seedlings.
I walk you through which shelving unit to choose, the best lights and hangers to use, and how many trays you can fit on a shelf.
Why 955+ busy gardeners have said "yes" to the indoor seed starting rack plans:
To get a jump on the season
"I live in a short growing-season area. And starting seeds early sounds so good, but timing is driving me nuts. And I'm dealing with skinny leggy starter plants. Having an indoor light stand seems like the perfect solution!"
I'm new to starting seeds indoors
"I've always wanted to grow a beautiful flower and vegetable garden. I am also planning to plant an indoor garden in my basement. Thank you for the information that will surely help!"
It makes my foodie-heart happy
"Growing healthy seedlings with this seed starting rack means I'll be growing vegetables from our home garden that will put store-bought produce to shame."
Where should I send your DIY seed starting rack plans?
Enter your best email address below👇
"It's a great feeling to see the seedlings grow strong and not see unhealthy ones!"
— Toni F.
Snag these free printable seed starting rack plans before you DIY your seedling grow shelves.
See step-by-step how to create your own seed starting shelves, even with limited space. No building required!