Free Seed Viability Chart PDF [Longevity for 125+ Seeds]
"I'll be glad to save money instead of buying fresh seed! Thank you!!!"
— Jenny
Find out if your seeds are still viable…
Don't you hate it when you waste time starting seeds that never germinate? Or maybe they don't seem vigorous after they sprout?
We've all been there.
The solution?
A handy, printable seed longevity chart that tells if your vegetable, flower, and herb seeds are still worth planting.
Get ready to say goodbye to germination letdowns!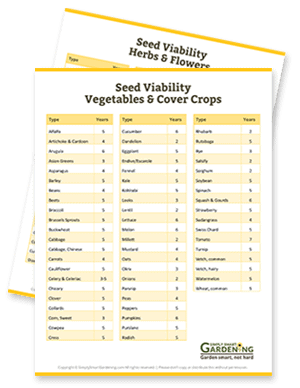 "Knowing whether my seeds are still good is extremely important since I have a flower seed budget."
— Diane H.
Are your seeds still viable? How long do they last?
Get the shelf life of 125+ different seeds when you snag the seed viability pdf
Follow these 3 easy steps to feel confident about your old seeds:
Enter your best email address below.
Check your email and quickly find your seeds on the seed lifespan chart.
Toss out packets that are too old to be viable.
Plus, you'll get helpful seasonal gardening tips when you sign up! (Don't worry, I won't flood your inbox).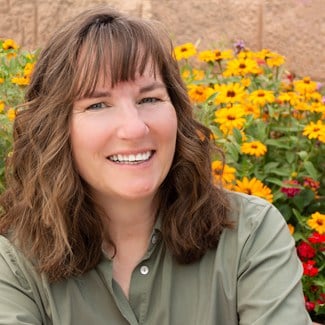 Hi there! I'm Cheryl, your garden seed guide.
I believe gardeners should start more plants from seed.
But it can be disappointing when you wait, wait, and wait some more for your seeds to germinate. And nothing happens.😞
That's why I created this seed life chart.
So you can save time and money on seed-starting. And avoid germination letdowns.
This easy-to-use chart will help you decide if you should plant leftover garden seeds you've been storing for a while.
Y'know – those half-empty seed packets you've been hoarding for "someday."😉
Why 4,770+ gardeners have said "yes" to my printable seed viability chart:
I want to start my favorite varieties with confidence
"I have leftover flower seeds from previous, favored plantings. I'll be thrilled if I have viable seeds, and I can plant them!"
It'll be a relief to avoid seed-starting problems
"I don't want my kids to face disappointment again when it's time to plant our vegetable garden."


I'll feel less anxious about seed starting
"Your chart gives me peace of mind that my seeds are dependable, have vigor, and will thrive when I plant them."
Are your flower or vegetable seeds viable? Will they germinate?
It's easy to be certain about seed longevity with this FREE printable seed viability chart pdf.