No one wants to keep wondering:
When should I prune?
When should I plant?
When should I harvest?
What should I be doing in my garden right now?
Imagine how it would feel to take the stress, overwhelm, and guesswork out of gardening.
Here's everything that's included…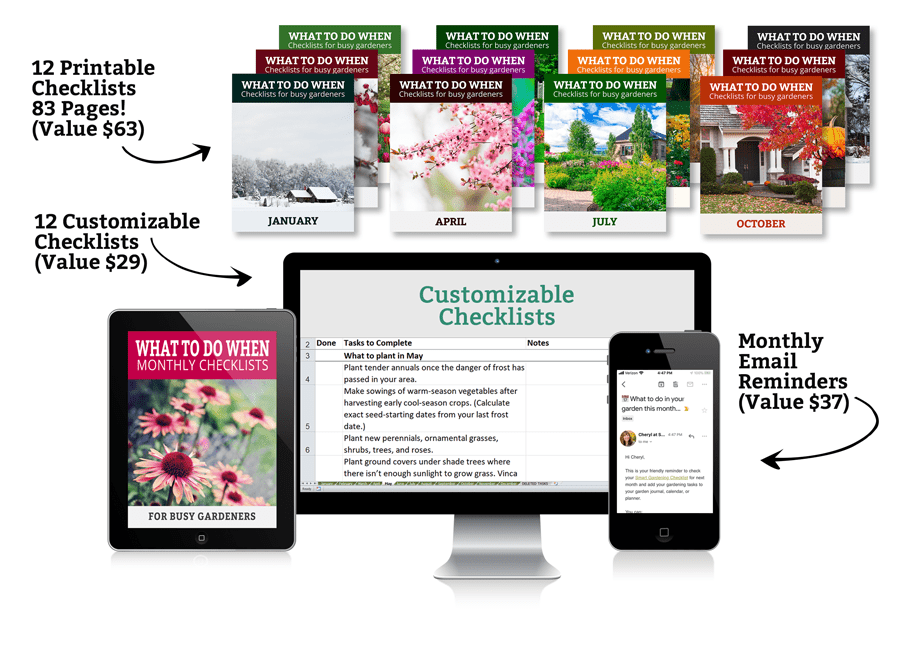 Busy gardeners use the checklists every day
"I'm new to gardening and need a system to help me feel less overwhelmed."
"I needed help figuring out when to prune or cut back. Gardening is more fun when I can relax and not worry."
"Having these checklists means I can cut down on store-bought food."
"I'm still learning what to do (in my garden) and the checklists will keep me interested."
Here's how to be sure you're doing the right things at the right time in your garden:
Print up your set of What To Do When checklists. Use them every month and you'll:
Say goodbye to gardening stress and overwhelm because you no longer forget to do important gardening tasks.
Experience fewer failures and setbacks because you're doing the right things at the right time.
Finally feel like you're keeping on top of everything in your garden – because you are!
"They're even better than I hoped they'd be! I used to always guess at what to do when. These lists take the guesswork out of the equation. I love them!" – Jeff B.
Each monthly checklist includes:
What to plant
Important garden maintenance
A lawn care schedule
Planning and journaling tips
Wildlife tips
Houseplant care instructions
Vegetable gardening tasks
Flower gardening to-dos
You get 12 printable checklists
(83 pages total)
Want customizable checklists?
The spreadsheet is for you!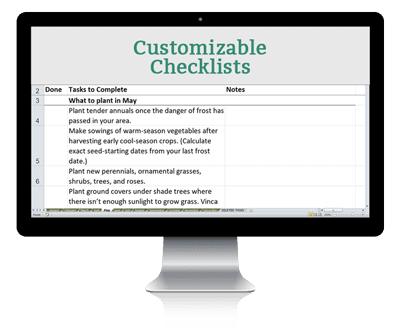 What to do each month is as unique to you as your garden is.
That's why I've included a customizable spreadsheet.
So you can focus on what's important to do each month in YOUR garden.
Are you the printable type?
The printable checklists are for you!
Don't want to mess with customizing the Excel spreadsheet? I've got you covered!
The printable checklists are the quickest way to get started with What To Do When.
Just print them up, and check off tasks as you go!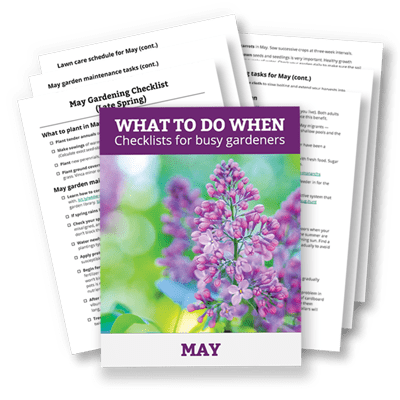 The What To Do When checklists are perfect for you even if …
… you know when to plant and harvest, but struggle with what maintenance to do in between.
The What To Do When checklists are a wonderful tool. There are tasks on there that I overlooked. We've only been in this house for a month so there's a lot to do. Thanks!
I feel more organized and am getting closer to having the gardens I've always wanted.
I've downloaded and printed the year's worth.
This is such a great thing to have. It's easy to forget what should be done, but now I don't have to worry!
Just starting to garden. It's a lot of work and I feel like I don't know what I'm doing. It's satisfying to "get it right" and see the results. Guidance helps!
THANK you for the What To Do When checklists!
I'm making a garden journal and your tips really help! 😃
Having the What To Do When checklists saves me time trying to look up information. And they mean everything to me as this is the first time I have a good size garden area to care for.
Why did I create these checklists?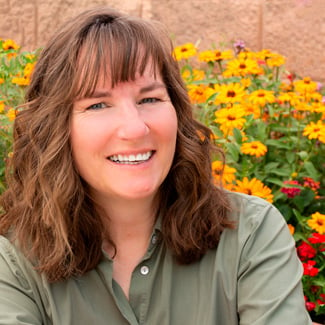 Hi, I'm Cheryl. As a brand-new gardener, my first attempt at trimming our lilac bushes was an epic fail! When they didn't flower the following spring I discovered my mistake. By pruning them in the fall, I removed all of next year's flower buds!🤦‍♀️
So, it became my mission to know the right time to do everything in my garden. And I spent over 100 hours researching what to do when.
Now knowing what to do in my garden each month is easy!🙂 And I created the What To Do When checklists so you can feel confident that you always know when to do what in YOUR garden.
100% Satisfaction Guarantee
I stand behind the What To Do When checklists 100 percent with my Love it or Leave it guarantee. If you're not completely satisfied within the first 14 days of purchasing, send me an email to let me know why it wasn't a good fit for you. I'll refund your purchase, no questions asked.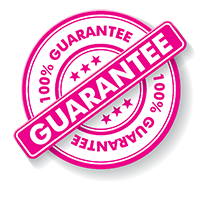 Frequently Asked Questions
Will these checklists work where I live?
If you live in North America and have a winter season where your ground freezes, these checklists will work for you.
The checklists are geared toward USDA hardiness zones 5 & 6, but you can adapt them to your zone. I explain how to do that in the download.
Are the customizable and printable checklists identical?
They have the same checklist items on them.
What sets them apart is that the customizable checklist can be tailored to your garden. 
The printable checklists can't be changed. 
I've provided both formats because not everyone likes working with spreadsheets, and you might find it more convenient to just print up the checklists and use them that way.
What format are the checklists?
The customizable set of checklists is in Excel format. It can be read by most spreadsheet programs including Google Sheets.
The PDFs are a printable-only version of the checklists. There is one file for each month. There are a number of free PDF reader programs (such as Acrobat Reader) that can open PDFs.
The files are in a zipped folder when you download them.
What's the return policy?
I have a 14-day Love It or Leave It Guarantee. Let me know what you don't love about the checklists within 14 days of purchase, and you'll get your money back.
What if I have questions?
I've included step-by-step instructions on how to use the checklists. But if you have any questions, email me and I'll get you squared away!
How long will I have access to the checklists?
You'll have access to the checklists during the lifetime of the product. Download them as many times as you want. And whenever I update the checklists, I'll send you an email to let you know.
Ready to say goodbye to gardening overwhelm and get things done at the right time?
Here's a little reminder of everything you get…
12 print-only monthly checklists – 83 pages total ($63 value) Print these up and add them to your garden journal or calendar.
12 customizable monthly checklists ($29 value) It's easy to create a personalized (and printable) list of gardening tasks with this done-for-you spreadsheet. Just select the tasks you need to do each month.
BONUS: Monthly email reminders ($37 value) You'll get monthly reminders from me to help you stay on track with the checklists.
Total value: $129.
Total investment: ONLY $67!