Imagine…
Always knowing when to
plant, prune, and harvest.
All you need is the right checklist.
The Best Seed Starting Setup

By: Cheryl Spencer
Inside: Discover my picks for the equipment, tools, and supplies you need to create a nifty seed starting setup.
---
Every year I get the same questions from gardeners who want to start plants from seed –
What's the best soil to use?
What are the best containers for starting seeds indoors?
What are the best grow lights?
And I'm not surprised…
If you've never started seeds indoors before or had trouble in the past, choosing the best supplies and equipment can feel intimidating.
To answer those questions (and more), I've created a list of my favorite seed starting essentials that'll help you get your seedlings off to a good start this year.
I've tried a lot of different containers, seed starting mixes, and setups over the years.
And these are my tried-and-true seed starting helpers.
The ones I rely on every season to grow hearty, vigorous seedlings.
To get started, choose your own seed-starting adventure:
Need to know #allthethings?
Start at the beginning and find out what you need to set yourself up for seed-starting success this season.
Already have a grow light stand that works for you, and just need to find the best seed starting tools and supplies?
Click here to see my picks for the best seed-starting mix, containers, fertilizer, and more!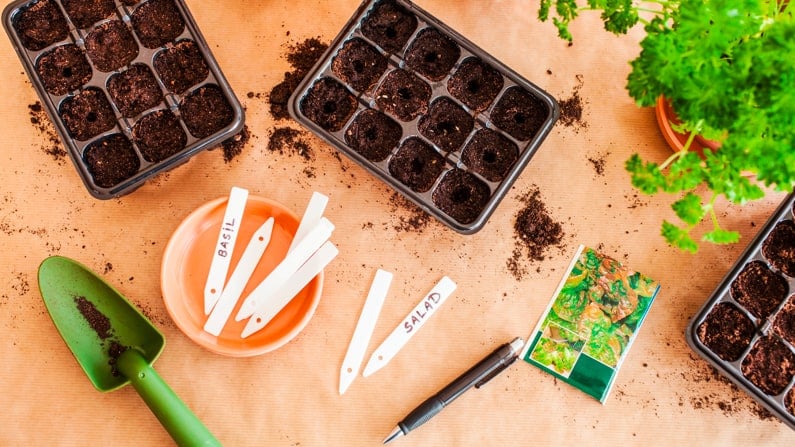 How to create the perfect seed starting setup
Decide where to put your grow light stand.
Set up your seed-starting shelves.
Install your grow lights and light hangers.
Plug in your seed starting mat if you're using one.
Set up your fans.
Program your timers.
Plug everything in to your surge suppressor.
Make sure you have enough seed-starting trays and containers.
Stock up on seed-starting mix and seeds.
Gather your seed-starting tools.
The best seed-starting equipment
Seed-starting shelves
Want your indoor seed starting setup to last a long time?
Invest in sturdy shelving.
That's why I recommend these shelves from Seville Classics.
They're 4 feet long and available in 18″ and 24″ depths.
These shelves are perfect for anyone with limited space to start seeds. And if you live in an apartment or rental, they're easy to take with you!
Why I love this shelving:
it's super sturdy (can hold up to 600 lbs. per shelf)
easy to set up
can be wheeled around
easy to disassemble
The best seed-starting lights
Grow lights are an essential part of any successful seed starting setup.
Without them, you'll end up with leggy, stretched seedlings.
And if you don't have a lot of space for seed starting shelves, you'll want to use fluorescent lights.
Why?
Because you can fit twice as many plants on one rack when you use fluorescent lights instead of LEDs.
LED lights need a lot of headroom – they must be placed 12-24 inches from the tops of your plants. And when you factor in the space you need for light hangers and the height of your plants, you can only have 1-2 grow shelves per seed starting rack when you use LEDs.
Fluorescents don't need nearly that much space – they should be 1-2 inches from your seedlings, so you can have more shelves devoted to growing seedlings.
Here are the lights I use and recommend:
Best grow lights: 4-bulb lights (for the 1.5′ x 4′ shelves)
Prices last updated on 2022-05-17 at 19:38
Best grow lights: 6-bulb lights (for the 2′ x 4′ shelves)
Prices last updated on 2022-05-17 at 19:38
Why I love these lights:
They don't get hot enough to burn your plants.
They're daisy-chainable, so you can run multiple lights off of one timer.
You can hang them close to your plants, so you don't need as much headroom for the lights as you do with LED fixtures.
Related: Build your own DIY grow shelf.
Hanging hardware for your lights
I spent years fussing with chains and hooks.
But eventually got tired of all the hassle.
Imagine how excited I was to find these hangers!
Prices last updated on 2022-05-17 at 19:38
Mylar
Horticultural mylar reflects light back where you need it – onto your plants.
Do you need to use mylar to grow healthy seedlings?
Not necessarily, but if your seed starting unit is next to a wall, the mylar will help bounce light back onto the plants.
As a bonus, it'll keep your wall cleaner by protecting it from dirty water splashes.
Prices last updated on 2022-05-17 at 19:38
Fans for your seed starting rack
An oscillating fan (or two) is a must-have for any successful seed starting setup!
Why?
A fan will:
Provide the wind resistance your plants need to grow strong and sturdy — it's like a stair master for your seedlings.
Help you prevent damping-off – one of the most common (and preventable) seed-starting problems.
Damping-off can quickly wipe out an entire crop of seedlings.
But running a fan on your seedlings will go a long way toward preventing it because it keeps the surface of your growing medium dry. – Damping-off thrives on the surface of warm, moist soil.
So, give those seedlings a wind workout!
You won't be disappointed.
The type of fan you choose depends on your specific setup.
Prices last updated on 2022-05-17 at 19:38
Pro tip: If you choose to use a small fan, get one for each shelf that has seedlings on it.
Heat mat (optional)
Why use a heat mat?
Have you struggled to get your seeds to germinate?
And you're sure it's not because your seeds are too old?
Then a heat mat may help.
A heat mat can help speed up the germination rate of many seeds.
Just be sure to turn it off once your seeds sprout. Leaving it on after germination can encourage leggy growth.
Prices last updated on 2022-05-17 at 19:38
Heavy-duty timer
Once you get your shelves assembled and your lights and fan(s) set up, you'll need to plug those into a timer.
I suggest using two heavy-duty timers, one for your lights and one for your fans.
Using a timer is the only way to ensure your plants get the same amount of light every day.
Prices last updated on 2022-05-17 at 19:38
Don't add "forgot to turn the lights on" to the list of reasons why your seedlings fail.
Surge suppressor
Use a quality surge suppressor to protect the investment you've made in your grow light setup.
Prices last updated on 2022-05-17 at 19:38
The best seed-starting tools
Potting tray
I'd have a much messier house during seed starting season if I didn't have one of these!
This tray makes it easy to fill your containers without leaving a trail of potting soil behind.
Unless you have a dedicated spot where you can get messy, you'll want one of these.
Trust me, you won't regret it!
Prices last updated on 2022-05-17 at 17:58
Soil scoop
Anything you can do to make seed starting easier on yourself will make the whole process more enjoyable.
And having the right size soil scoop (or trowel) makes filling your pots so much easier!
Prices last updated on 2022-05-17 at 17:58
Widger
This unassuming-looking tool is unbelievably helpful when it comes to seed starting.
If you prick out or pot up your seedlings, you'll want to have one of these.
Its slim profile makes it the perfect tool for repotting seedlings!
Prices last updated on 2022-05-17 at 17:58
Pastry tamper
Did you know you need to gently tamp down your seed-starting mix to get the air pockets out as you fill your pots?
And silly as it may seem, a pastry tamper like this one is the perfect tool for the job.
It can even tamp down soil in smaller cell-type trays.
Prices last updated on 2022-05-17 at 17:58
Bottle brush
Do you clean and sterilize your containers each season?
A gentle bottle brush is a must-have to prevent damaging your containers.
This is the one I use.
Prices last updated on 2022-05-17 at 17:58
Seed starting journal
Track your progress with a garden journal.
Keeping a seed starting journal not only creates a record of what happened, what worked, and what didn't, it also helps you focus on the day-to-day details.
Since we're looking at our seedlings every day (and sometimes multiple times per day), it can be easy to lose track of milestones.
Taking the time to jot a few notes each day or two will help you focus on how things are progressing.
Get started with this printable garden journal.
The best seed-starting supplies
Where to shop for the best seeds
Here are my top three handpicked seed catalogs. I keep coming back to them year after year…
Botanical Interests– You're in for a treat when you tear open your order from Botanical Interests! Their gorgeous seed packets are tiny works of art that'll make you long for summer. But they don't just have a pretty face … they're chock-full of growing tips too!
High Mowing Organic Seeds– One of the few seed companies to sell 100% organically grown seed. They've been 100% organic from the start and offer over 700 varieties of organic vegetable, flower, fruit, and herb seeds.
Renee's Garden Seeds– A garden-to-table seed company run by gardeners for gardeners. Renee's mission is to make sure you can purchase seeds that'll perform well in your garden, no matter where you live.
The best seed starting trays
Don't you hate it when cheap seed starting trays crack and spring a leak?
Do yourself a favor, and invest in some heavy-duty seed starting trays.
They'll last for years.
And they'll never sag under the weight of your containers!
Prices last updated on 2022-05-17 at 17:58
Pro tip: Skip the humidity domes altogether or only buy a few. You don't need one for every tray.
The best seed starting containers
If you use or purchase 10 x 20-inch trays, make sure you also get pots that fit them.
My advice?
Skip the cell trays and jiffy pellets.
They're too small.
So you'll end up spending a bunch of time potting up seedlings into larger containers.
Instead, invest in containers that hold enough seed starting mix to grow a healthy root system.
And avoid the need to pot up most of your seedlings.
2.5-inch pots work well for the vast majority of seedlings.
But if you're going to start tomatoes, you'll need to pot them up to bigger 4.5-inch pots a few weeks after they sprout.
The best 2.5-inch pots
32 fit in one 10 x 20 tray
Prices last updated on 2022-05-17 at 17:58
The best 3.5-inch pots
18 fit in one 10 x 20 tray
Prices last updated on 2022-05-17 at 17:58
My favorite seed-starting mix
The best seed-starting mix is one that holds enough water yet drains well.
For the best results, use a fine mix that has small particles.
Seedling roots won't have to struggle to get around large clumps, bark chips, or twigs.
What I love about Sungro's Black Gold Seedling Mix:
It's double-screened. It has fine particles, so I don't have to sift it to get large chunks and twigs out.
It's made in the U.S.
It has an organic wetting agent in it, so it's easy to wet even when it's bone dry.
Prices last updated on 2022-05-17 at 17:58
The best plant labels
Don't forget to pick up some plant labels, or you won't know which variety of heirloom tomato is which…
You don't want to get your Brandywines mixed up with your Malakatovoya Shktulka!
Why I love these plant labels –
They're durable and will last several seasons.
They're easy to write on.
They're wide enough to accommodate Brother label maker labels.
Prices last updated on 2022-05-17 at 17:58
When I'm not printing labels for my plant markers with my accommodate Brother label maker, I use this pencil to write on them.
Pencil marks are essentially indelible and don't fade in the sun as sharpies do.
To reuse your labels, just erase your writing at the end of the season.
But don't use just any old pencil – #2HB pencils (extra soft) are the better choice.
Prices last updated on 2022-05-17 at 17:58
The best seedling fertilizer
The best seedling fertilizer will have an NPK ratio of 3-1-2 (or something very close).
It's the same ratio used by professional growers.
Here are my top picks for the best seedling fertilizer:
Miracle Gro Plant Food (24-8-16)

Prices last updated on 2022-05-17 at 17:58
The best organic seedling fertilizer: Age Old Organics, Age Old Grow (12-6-6)
Believe it or not, it doesn't have a fishy odor!
Prices last updated on 2022-05-17 at 17:58
No matter which fertilizer you use, be sure to fertilize your seedlings at half strength!
Frequently asked questions about creating an indoor seed starting setup
Download Your Free DIY Grow Light Plans
Make sure you have everything you need to set up your seed starting shelves so you can grow healthy seedlings this year and every year!
Click to download a free set of printable grow light stand plans.
Here's a sneak peek of your plans: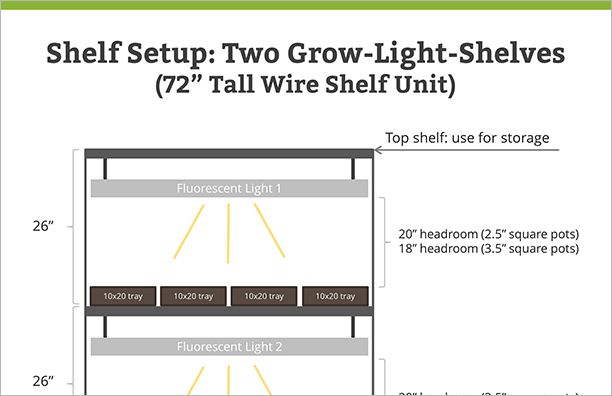 Your turn: Tell me about your seed starting setup…
Have you grown seedlings inside under lights? How did it go?
Do you have any questions about creating a seed-starting setup this year?
Leave a comment below!
---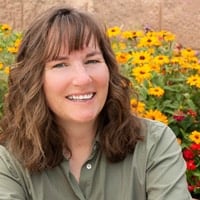 Hi, I'm Cheryl.
I'm a certified gardener, bird lover, and spreadsheet enthusiast. I believe you can grow your dream garden and still have time to enjoy it. I teach online gardening courses and write articles that help you save time and money in your garden. Join my mailing list, and as a bonus, you'll get a helpful checklist that'll tell you what to do in your garden right now.