Imagine…
Always knowing when to
plant, prune, and harvest.
All you need is the right checklist.
Garden Design How To: DIY Garden Design for Beginners
---
Have you ever watched a landscape makeover on TV and thought, "how hard could it be to design my own garden?"
They do make it look easy, don't they?
Good landscape design adds value to your home without breaking the bank. And it creates a space you and your family can enjoy for many years.
But before you run out and buy a bunch of plants, follow my step-by-step instructions for designing your garden.
You'll learn a few basic design principles. And I'll help you avoid the mistakes most beginning gardeners make.
Before you get started, why not download a free garden design workbook pdf?
How to design your own garden:
This post may contain affiliate links. So, I may get a small commission if you buy something after clicking through. I only link to products I would recommend to my best friend.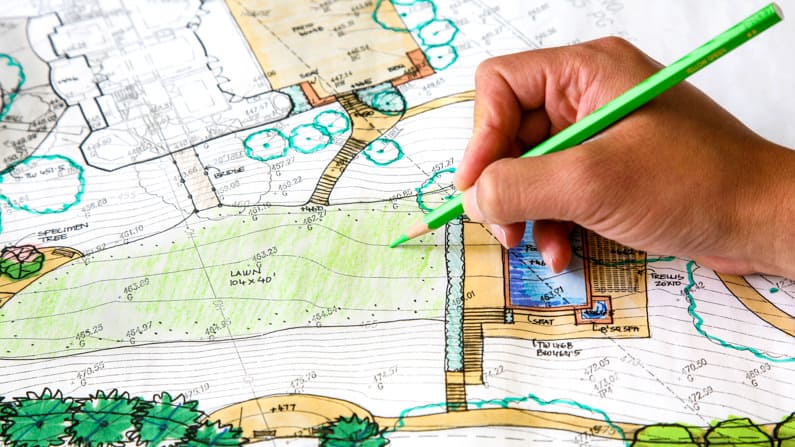 Garden design 101: basic garden design concepts.
The style you choose matters
Choosing a garden style is like decorating the inside of your house. If you collect garden design ideas or plans, make sure they complement the style of house you have.
A very minimalist garden wouldn't look right paired with a Victorian-style home, and a rambling cottage garden would clash with modern architecture.
Stay consistent with the style. Not only should the landscaping complement the house, but it should be the same style in the front yard and backyard.
If you're attracted to several styles of gardens, pick the one that most complements your house and fits with how you want to use the garden.
Prices last updated on 2023-03-18 at 13:30
Good garden design creates outdoor rooms
A garden room can feel spacious or cozy, depending on how you design it.
A garden room that incorporates privacy, a place to relax, and shade has:
A floor (the patio)
At least one wall (a privacy screen or actual walls)
A roof (a shade structure, large shade tree, or umbrella)
Think about how you can add rooms to your yard, and how to connect them to create a cohesive design.
A few basic design principles
There are many design principles you can use to create beautiful garden designs.
As a newbie, focus on three design principles – scale, color, and plant groupings. Beginners make the most mistakes with these elements.
Scale
As a beginner, it's difficult to estimate and picture the mature size of plants and garden beds. It's also difficult to judge how they'll work with everything else in the design. The best way to judge the scale of a plant is to place a physical object where it'll go that approximates its height and width.
People (holding long sticks with their arms outstretched) are a good substitute for trees.
An overturned wheelbarrow works for low-spreading shrubs.
Large pots can work well for small shrubs or perennials.
The most important thing to remember about the scale of plants is their mature height and width. Don't plant a 60-foot tall shade tree next to a fence, under power lines, or in a small yard.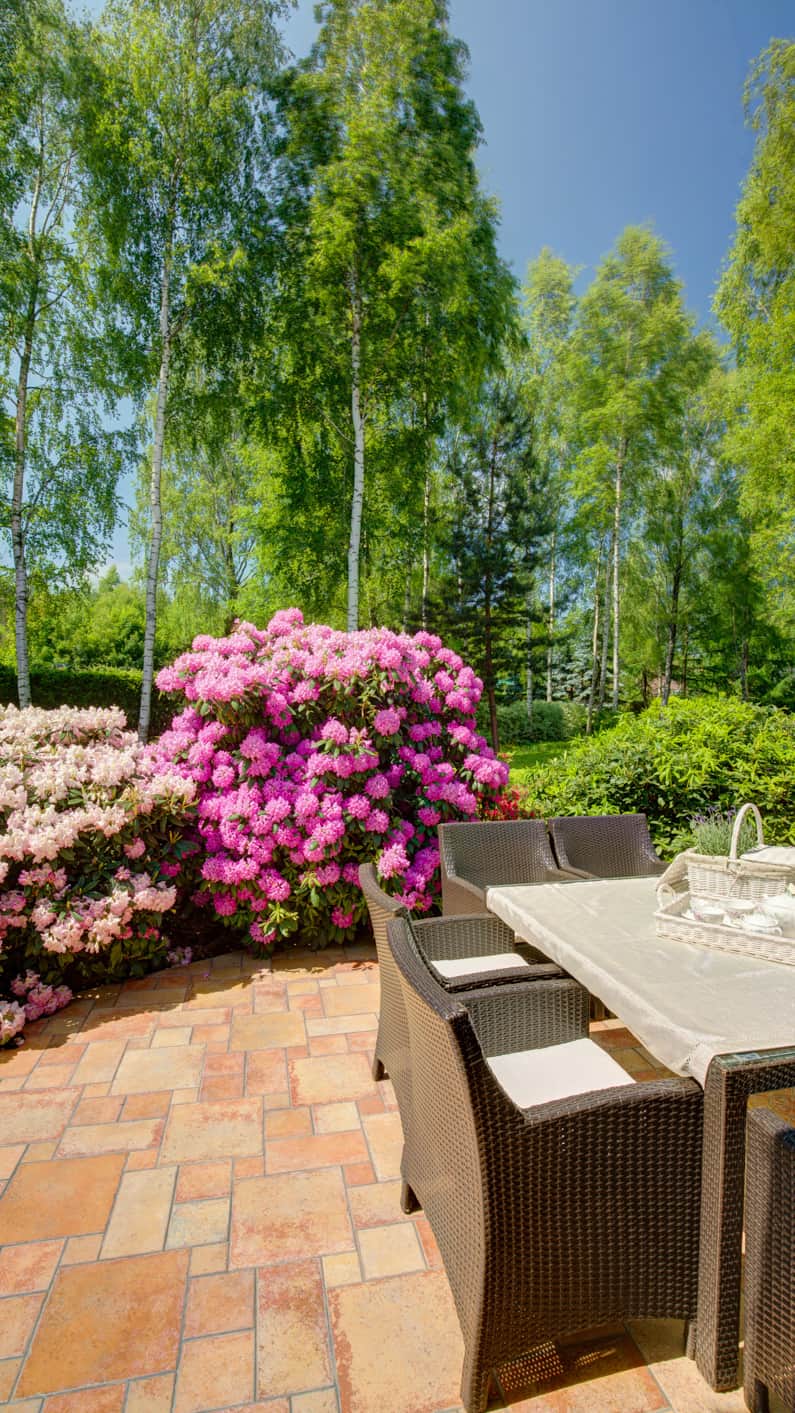 Color
Too much color without a sense of harmony can be distracting. But too little color is boring. The solution is to create a color palette of 1-3 colors for each section of your garden and stick to it when you go to the nursery. This avoids the all-colors-of-the-rainbow effect.
Contrast is also an important consideration.
Plants that grow in front of a fence or wall should contrast with the background.
If you have a dark wall, choose lighter plants.
Consider whether you want a warm or cool color palette for each bed and your entire yard.
Cool colors (blues and greens) are relaxing.
While warm colors (yellow, orange, red) are energizing.
Create a color palette of 1-3 colors for each section of your garden and stick to it when you go to the nursery.
Plant groupings
Try to mimic nature. Don't plant flowers in rows. Group odd numbers of perennials and annuals (1, 3, 5, 7, etc.) in natural-shaped clumps and sweeps. This will create large drifts of color in your garden.
Group plants by water needs. Don't place low-water and thirsty plants close together.
Prices last updated on 2023-03-18 at 13:30
Step 1: Decide how you want to use your garden.
Picture yourself and your family using the garden.
Think about what would make the garden work best for you.
Do you want a place to relax and enjoy your garden? Put a garden bench or a table and chairs in the space.
Do you want a place to entertain in the garden? Create a space where friends and family can gather around a large table. Easy access to the kitchen and a grill is a plus.
Do you want a privacy screen or need to hide an ugly view? You'll need to consider installing a fence or trellis, or a privacy planting of large shrubs or trees.
Do you want to enhance a beautiful view? Don't plant anything tall that'll conceal it.
Do you want a fragrant garden? Put fragrant flowers and herbs on your plant wish list.
Do you need more shade in the garden? You might want to install a pergola, get a patio umbrella, or plant a large shade tree.
Do you want to attract butterflies? Include plants in your plan that butterflies can't resist.
Quick tip: For the best possible results, download my free printable Garden Design Workbook that includes bonus garden design graph paper.
Who will use your garden?
Do you want a children's garden where the kids can tend a few easy-to-grow plants and have space to play? If so, add this to your garden plan.
Are there pets or other animals you need to keep out of the garden? Think about how you'll keep them out. You may need to install a fence.
Do any of the gardeners have a physical impairment like a bad back? Consider installing raised beds, or focusing on container gardening.
Related: FREE garden printables
Make a list of the three design elements that are most important to you
You'll come back to these later when you draw up your plans.
BONUS: As a bonus for joining my weekly newsletter, download a free Garden Design Workbook.
Step 2: Assess your yard.
Where will you place your garden so it doesn't get neglected?
Plan to put your garden in a place where you can see it, or where you hang out regularly.
If you go to your backyard to relax and get away from the world, put your garden there.
But if you prefer to be part of the activity in your neighborhood, then put your garden in your front yard.
Either way, put it in a place where you'll want to spend time.
Prices last updated on 2023-03-18 at 13:59
Is there a water source close to the garden?
Having to drag a hose around is no fun and will make you less likely to water your garden.
Put your garden close to your water source or consider installing a remote spigot.
What's the climate like in your yard?
A big mistake that many new gardeners make is not paying attention to how much sun, wind, and rain their yard gets. It's one of the most important factors to plan for.
Calculate your garden's sun exposure if you haven't done so already.
Think about the sun, rain, and wind in your yard before you make your garden plan.
Do you need more shade so you can be outside in the heat of the summer?
Can you put an umbrella in a certain spot without it blowing away in a strong wind?
Where does the water in your yard go during a hard rain?
Related: Find out how much sun your garden gets with my free sun and shade analyzer. Download it now to get started!
Once you have a good understanding of the microclimates in your garden, you're ready to start designing your garden.
Step 3: Make a wish list of garden design ideas and plants you'd love to grow.
Gather ideas.
You can do this on paper, but my favorite place to plan is Pinterest. It's a great place to find beautiful plants and garden design ideas.
Set up a Pinterest account if you don't have one already. Download the PinIt button for desktop, and install the app on your apple or android phone.
Follow me on Pinterest to see gorgeous gardening pins in your feed.
Create different boards for each topic. This makes it easy to find what you're looking for.
Pin lots of ideas! You'll whittle your list down later. Now's the time to dream about what you'd love to grow.
When I planned my current garden, I created Pinterest boards where I collected plant ideas for each garden bed.
I also had boards for things like garden sheds, walkways, and privacy screens since we needed to add them.
But you might create boards like front yard, backyard, perennials, annuals, containers, or vegetables.
Pin lots of ideas! You'll whittle your list down later. Now's the time to dream about what you'd love to grow.
Take the first step toward growing your dream garden. Download my FREE Garden Design Workbook.
Where to find plants to put on your list:
Just make sure the plants will do well in your garden's climate.
And if you have problems with deer or rabbits, look for plants they don't like to eat or keep them out of your garden with a fence.
Prices last updated on 2023-03-18 at 13:59
Step 4: Choose the right plants from your wish list.
When you're ready to make a list of plants to include in your plan, consider these factors.
How much sun and shade does your garden get?
You've already measured the sun exposure of your yard, so you know the answer to this question. Only choose plants that'll do well with this amount of sun exposure.
Which plants will do best in your garden's microclimate?
In addition to sun exposure, think about the other microclimate factors that affect your garden.
What type of soil does it have? Clay? Sand? Loam?
Does it tend to be dry or wet?
Is it on a slope, or in a low spot?
How windy is the site?
If any of the plants on your list won't do well in this microclimate, eliminate them.
How much room do the plants need?
Know the mature height and width of all the plants on your list. Make sure every plant has enough room to grow to this size when you decide where to put it.
Related: Is maintenance-free landscaping possible?
What trees or shrubs will you include in your design?
Start by placing the largest plants first. Trees and shrubs form the backbone of your design. Everything else will be designed around them.
It's particularly important that you spend time considering what trees to plant and where to plant them. Shrubs are next. Add them to your design now.
What plants should go at the back or in the center of the bed?
If the garden bed is a border (it's backed by a wall, fence, building, or your property line) start by placing the tallest plants in the back, and move toward the front of the bed.
If the bed is an island start by placing the tallest plants in the center and work your way to the outside of the bed.
Which plants follow your color scheme?
As a beginner, it's easy to get carried away with color and create a distracting color palette. Limit your color scheme to 1-3 colors (in addition to green).
Take the guesswork out of getting started with garden design. Get my FREE Garden Design Workbook.
Step 5: How to draw a garden plan.
Map your existing landscape
I find it helpful to draw my garden plans on graph paper. It's easier to draw everything to scale. Download my Garden Design Workbook and you'll get free printable graph paper for sketching out your plan.
New gardeners misjudge the size of garden beds and plants. That's why it's best to draw everything to scale.
If you have a large yard, you may need to tape several pieces of graph paper together.
Before drawing up a garden plan, measure your yard.
When you have the measurements, outline your yard on paper.
Then draw all the buildings, walkways, patios, walls, and fences.
If you have a pool or hot tub, include those too.
If you plan to leave your existing garden beds, trees, and shrubs as-is, draw them on your map.
If you plan to change any existing garden beds, add them after you make copies of the map.
Make a few copies of the map. If you change your mind partway through you won't have to start all over again.
It can also be helpful to make maps of individual garden beds. This makes it easier to plan if you have a large yard.
Decide how big your garden will be and mark out where it'll go
The size of your garden is an important thing to consider. How much room you have for a garden is a starting point. But also think about how much time you have to care for it. Don't plant a huge garden if won't have time to tend it.
And if you're a newbie, start small. I can't emphasize this enough.
Those garden makeover TV shows have professional landscapers and designers on staff and have a huge crew. You don't.
You won't makeover your yard in an hour, or ever a weekend. Don't take on more than you can handle at once.
Successfully planning and executing a small garden plan will give you the experience and the confidence you need to take on larger projects.
The size of your beds and the plants you choose for them matter
If you're planning a flower bed next to your house, or a wall, make sure it matches the scale of your home. If you have the room, make the bed 30-50% of the height of your home or wall. It should also be proportionally wider the longer you make the bed.
How wide should your garden beds be?
Making the beds too wide with no way to get in the middle makes it hard to plant, prune, weed, and harvest.
Vegetable beds shouldn't be over 4 feet wide.
Flower beds can be wider. But they'll need designated walkways that go through them.
A few gentle curves look more natural than sharp corners or curves.
Go out to your yard and mark out where your garden will go
If you're adding a new bed, mark out the garden with landscaping spray paint, marking flags, or a long garden hose.
A few gentle curves look more natural than sharp corners or curves.
Spend a few days looking at it from different angles before you commit to that shape and size.
But don't just look at it from outside.
Look at it from inside the house.
Think about how the garden will look from different vantage points.
Think about what types of plants or other design elements will work in that space. Start by focusing on the three most important elements you identified earlier. These elements will tie everything together.
Let's say this garden is in your backyard and your three most important elements are privacy, a peaceful flower garden that surrounds a place to relax, and shade from the summer sun.
What color palette in will create a peaceful place to relax?
Would trees work in the space to create privacy or shade?
What about a hedge for privacy, or do you need a fence?
Do you need to build a patio for seating?
Do you want room for a dining table and lounge chairs?
Do you need to build a shade structure like a pergola, or would a table with an umbrella be enough to provide shade?
Don't decide all the details yet. Right now, focus on how you want to use the garden, and what elements can make that happen in the space you have.
If you live in an HOA, there may be rules about what you can plant in your front yard. Consider those.
Once you're happy with the size of the garden and where you placed it, draw a finalized version of it on your map. Note any hardscape elements that you must create like walkways, patios, fences, or pergolas.
Prices last updated on 2023-03-18 at 13:59
Turn your plant wish list into a plan
Look at what kind of plants are on your list, and what garden styles appeal to you. Patterns will emerge.
Are you drawn to a particular flower color or foliage type?
Do you have a lot of tomato varieties on your vegetable garden list?
It's good to know what you're most interested in growing, but it's also important to seek balance.
Planning an ornamental garden
When you're planning a flower garden, you'll balance your design by planning for a succession of blooms. And you'll decide where plants will go based on sun and water needs, and height and width.
Prices last updated on 2023-03-18 at 12:39
Planning a vegetable garden
Vegetable garden planning focuses on how much room you have, how much time you can devote to your garden, and how popular certain vegetables are in your house.
Only grow vegetables you and your family love to eat.
And make your vegetable garden a manageable size.
Prices last updated on 2023-03-18 at 11:29
Step 6: What to do while you wait for your dream garden to take shape.
Your dream garden may not appear for a while.
This is especially true for anyone who plants perennial flowers, shrubs, and trees. It's frustrating to see the same non-dream-garden every day and envision anything great happening there.
Remember "sleep, creep, leap" from chapter one.
Annual flowers, vegetables, and herbs can fill the void while you wait. Annuals mature faster than perennials and will give you something to focus on other than the lack of progress in your perennial beds.
While you're waiting for your plantings to mature, it's important to spend time focusing on the space and think about what can make it better.
Keep thinking about what's working and what's not while you're waiting for your garden to fill in.
Gardens are always evolving, and sometimes what seemed like the perfect layout or the best plant for a certain spot turns out to be not so perfect.
Be prepared to change your perspective, and pivot when necessary.
Only you can know what'll make you happy with your garden. When you keep yourself open to design possibilities, the pieces will all fall together.
Take the first step toward growing your dream garden. Download my FREE Garden Design Workbook.
Read the rest of my Gardening 101 series.
Garden Design 101 (you're here)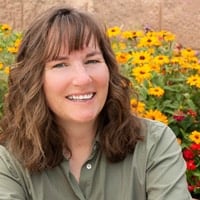 Hi, I'm Cheryl Spencer, a Certified Gardener.
Born with a plant addiction that has no known cure, I became a Certified Gardener to help ease the symptoms. Now I write articles and create gardening products that help you save time and money in your garden. I believe you can grow your dream garden and still have time to enjoy it. The good news? Anyone can do it. Start here »