Imagine…
Always knowing when to
plant, prune, and harvest.
All you need is the right checklist.
Garden design 101: basic garden design concepts
The style you choose matters
Choosing a garden style is like decorating the inside of your house. If you collect garden design ideas or plans, make sure they complement the style of house you have.
A very minimalist garden wouldn't look right paired with a Victorian-style home, and a rambling cottage garden would clash with modern architecture.
Stay consistent with the style. Not only should the landscaping complement the house, but it should be the same style in the front yard and backyard.
If you're attracted to several styles of gardens, pick the one that most complements your house and fits with how you want to use the garden.
Prices last updated on 2023-09-30 at 07:06
Good garden design creates outdoor rooms
A garden room can feel spacious or cozy, depending on how you design it.
A garden room that incorporates privacy, a place to relax, and shade has:
A floor (the patio)
At least one wall (a privacy screen or actual walls)
A roof (a shade structure, large shade tree, or umbrella)
Think about how you can add rooms to your yard, and how to connect them to create a cohesive design.
A few basic garden design principles
There are many design principles you can use to create beautiful garden designs.
As a newbie, focus on three design principles – scale, color, and plant groupings. Beginners make the most mistakes with these elements.
Scale
As a beginner, it's difficult to estimate and picture the mature size of plants and garden beds.
It's also difficult to judge how they'll work with everything else in the design.
The best way to judge the scale of a plant is to place a physical object where it'll go that approximates its height and width.
People (holding long sticks with their arms outstretched) are a good substitute for trees.
An overturned wheelbarrow works for low-spreading shrubs.
Large pots can work well for small shrubs or perennials.
The most important thing to remember about the scale of plants is their mature height and width. Don't plant a 60-foot tall shade tree next to a fence, under power lines, or in a small yard.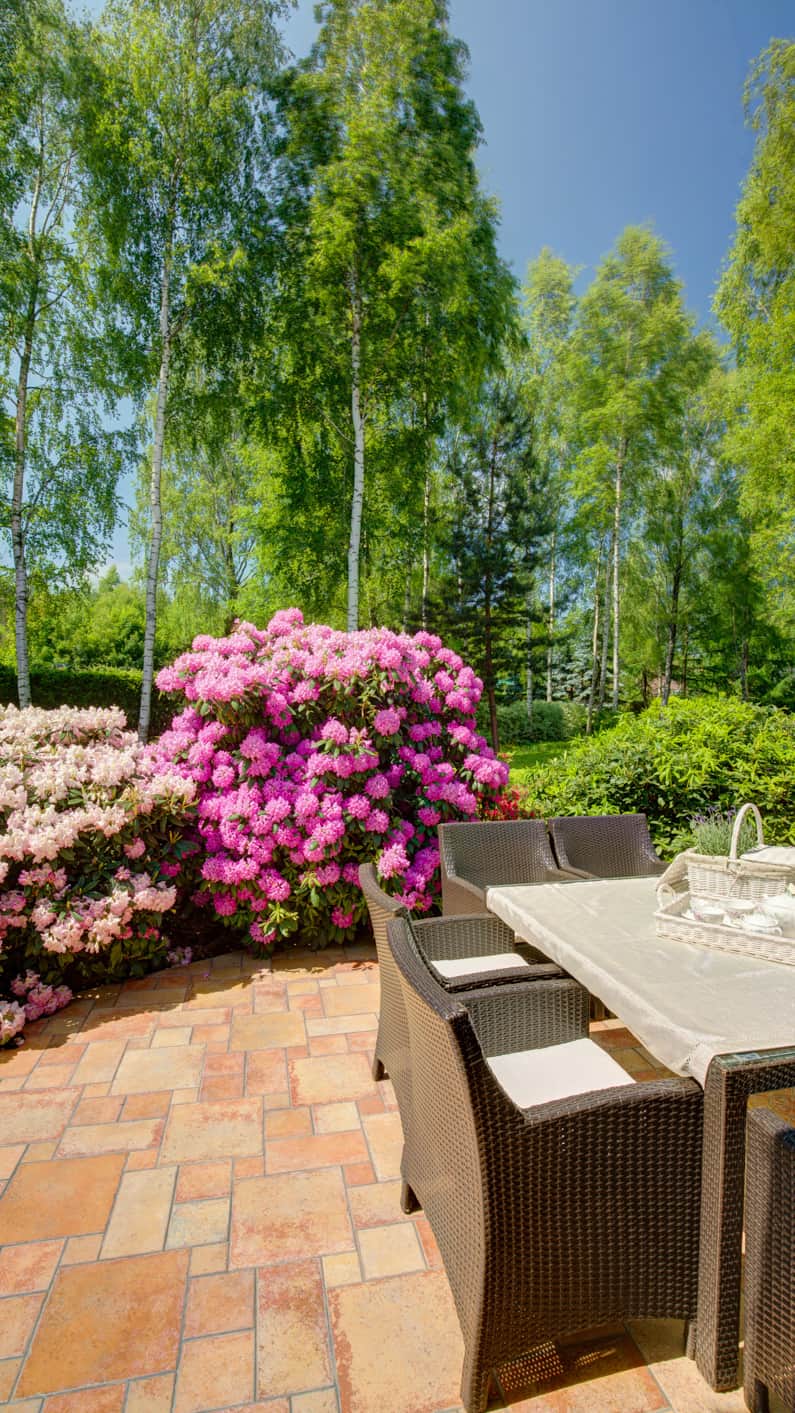 Color
Too much color without a sense of harmony can be distracting. But too little color is boring.
The solution is to create a color palette of 1-3 colors for each section of your garden and stick to it when you go to the nursery.
This avoids the all-colors-of-the-rainbow effect.
Contrast is also an important consideration.
Plants that grow in front of a fence or wall should contrast with the background.
If you have a dark wall, choose lighter plants.
Consider whether you want a warm or cool color palette for each bed and your entire yard.
Cool colors (blues and greens) are relaxing.
While warm colors (yellow, orange, red) are energizing.
Create a color palette of 1-3 colors for each section of your garden and stick to it when you go to the nursery.
Plant groupings
Try to mimic nature.
Don't plant flowers in straight rows.
Plant in drifts.
How to plant in drifts:
Group odd numbers of perennials and annuals (1, 3, 5, 7, etc.) in natural-shaped clumps and sweeps. This will create large drifts of color in your garden.
Group plants by water needs. Don't place low-water and thirsty plants close together.
And include some groundcover plants to act as a "living mulch."
Prices last updated on 2023-09-30 at 07:06
Next, we'll go through the garden design steps to follow as you design your own garden.