Garden Design Workbook PDF: An Easy Way to Start Planning Your Garden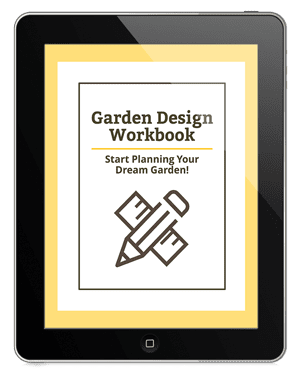 "I was able to enhance the existing garden I have with more ideas and attention to detail."
— Ann
You want a beautiful garden but don't know where to start…
It can feel overwhelming to plan out your garden.
It's hard enough trying to decide what kind of trees, shrubs, and plants to plant in your garden.
And then you start stressing about the layout and planting schemes, the colors, and whether or not it will look good!
By writing down your ideas and doing some research ahead of time, you can feel confident about planning out your dream garden.
And my free Garden Design Workbook is the perfect solution!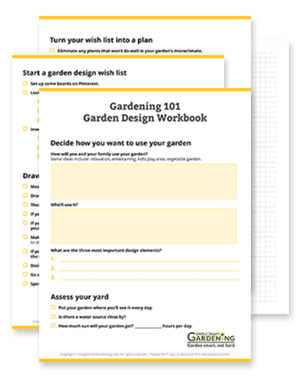 "The workbook is a fantastic start for me I have a 2-acre front area to landscape and am excited to start. I feel it will be a long project but worth it in the end!" — LeeAnne M.
Your free garden design workbook includes:
An easy-to-use design workbook that you can print or fill out on your computer.
Targeted questions that'll help you think more like a designer.
Graph paper makes it easy to get started on your plan.
Enter your best email below to get started right away!👇
Plus, you'll get seasonal gardening tips when you sign up. (Don't worry, I won't flood your inbox).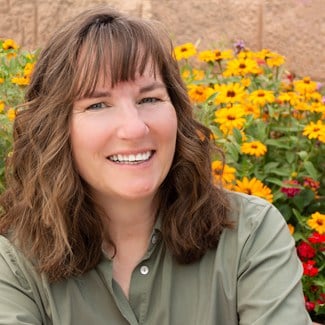 Hey, I'm Cheryl, your garden design guide.
I believe anyone can design their own garden.
But when you're new to landscape design, it can be hard to know where to start.
That's why I created this garden design workbook.
Think of it as a quick-start garden design guide.
It's a printable workbook that'll help you make some initial decisions about how you want your garden to look.
Once you make those essential garden design decisions, it becomes much easier to complete your plan!
Why 4,826+ gardeners have said "yes" to the garden design workbook pdf:
I have a new garden to design from scratch
"My backyard is 'builder grade.' Only grass and an eye sore compared to my neighbors. The workbook helped me define what I want in my garden."
I'm a beginner
"It's the first time I've done any garden design, and I need help figuring it out."
I want to stress less about planning out my garden
"We are building and have a good size yard. I want to create a beautiful garden, but it's been kinda stressful."
Where should I send your garden design workbook pdf?
Enter your best email address below👇
"My husband and I recently bought our first house. My goal is to set up a waterwise garden with perennials. I'm really happy that I found your workbook! It's been a fun activity and a good place to write down everything as I am researching and learning. Thank you for the valuable tips!"
— Taytum W.