These 7 Awesome Books on Fruit Trees Will Change How You Grow
---
Fruit trees are an excellent addition to your yard, but growing them can also feel daunting when you're new to fruit growing.
The good news is you don't need a large yard to grow fruit…
With some careful planning, you can grow productive fruit trees in even the smallest backyard.
While some fruit trees are low maintenance and easy to grow, others can be more complicated.
So before you grab a shovel and start digging holes, it pays to spend some time learning about the basics of growing fruit trees.
And the best way to learn is by cultivating your own fruit-growing library.
Keep reading to discover my picks for the top books on fruit trees.
This post may contain affiliate links. So, I may get a small commission if you buy something after clicking through. I only link to products I would recommend to my best friend.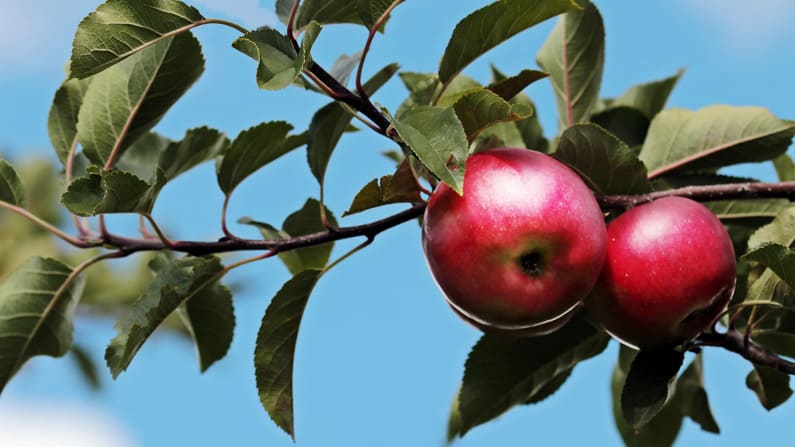 Best books on fruit trees for U.S and U.K. growers.
By Lewis Hill and Leonard Perry (For U.S. Growers)
If you're crazy about fruit or want to grow enough to feed your family, this is the book for you.
It's an essential resource for anyone who gardens and wants to grow fruit.
From small-scale growing to setting up a complete fruit farm, The Fruit Gardener's Bible (Amazon link) is a comprehensive guide to growing delicious, organic fruit at home (but not citrus fruit).
It covers everything from choosing the best varieties for your area to planting, pruning, and harvesting a bountiful crop.
In this guide, you'll learn how to plant and prune fruit trees and everything you need to know to grow sweet, juicy berries and grapes.
The Fruit Gardener's Bible (Amazon link) also discusses soil management, pest control and the many fruiting plants that thrive in North American growing conditions.
Covering both organic and non-organic approaches, this book is full of charts, graphs, and tables that will help you get the maximum fruit from your garden.
Even if you grow only a small amount of fruit, this book will meet your needs.
You'll understand why certain varieties thrive in different parts of North America, how to maintain your trees with minimal work, and how to choose the right varieties for your garden.
Note: this book does NOT cover citrus trees. But it's an overall handy guide for the fruit-growing novice!
Related: Discover the best books on pruning.
By Ben Pike (For U.K. Growers)
So you've got a garden, and you're thinking about putting in some fruit trees. This guide is the perfect primer for choosing the right fruit trees for your garden if you live in the U.K.
The Fruit Tree Handbook (Amazon link) offers a rundown of the most popular fruits and how to choose the best varieties – from apples to figs to quinces. It covers pretty much everything!
With step-by-step instructions and detailed diagrams, you'll learn how to grow and prune your trees to ensure bountiful crops, no matter what European climate you live in.
It also explains cultivation and propagation and includes a section on pest and disease prevention.
Pike also shows you how to restore an old grove and set up a community orchard.
This is a great reference book for any fruit enthusiast and a must-have for the budding fruit tree grower living in the U.K.!
Books for small space gardens.
By Ann Ralph
A backyard fruit tree is a thing to be proud of.
Yet, most backyards are too small to accommodate standard fruit trees.
So how does the small-space gardener include a fruit tree in their patch?
Even if you've never picked an apple from a tree, you'll learn everything you must know to grow and maintain a variety of compact fruit trees, even in your small-scale yard.
Beginners or experienced growers will find Grow a Little Fruit Tree (Amazon link) a straightforward introduction to the basics of growing small-scale fruit trees.
It includes clear and concise pruning techniques for keeping trees under 6′ tall.
This makes for better fruit that's easier to pick and adds variety to your harvests.
Each fruit tree profiled in this book is appropriate for a small garden. They can be pruned into a beautiful shape and will produce sizable amounts of fruit each year.
Inside, you'll learn:
when to prune
proper pruning techniques to keep fruit trees small and manageable
how to implement a timed pruning plan
how to follow a set of simple maintenance guidelines
Even in the smallest of spaces, with the help of this book, you too can grow your own fruit!
By Christy Wilhelmi
Grow Your Own Mini Fruit Garden (Amazon link) is a straightforward guide that'll help any gardener grow healthy fruit trees, bushes, vines, and other fruiting plants in small spaces or containers.
Even if you have limited space, you can create your own fruit-growing paradise!
This practical guide covers more than just the basics but isn't overwhelming for newbies.
It explains in easy-to-understand language:
how to select the best small-scale fruit trees, bushes, vines, and plants
properly siting your plants
fruit-garden layout
pruning your trees for health and productivity
grafting
container gardening
growing zones and chill hours required
how to choose the best varieties for your location
how to create compost and amend your soil
tips on troubleshooting
Grow Your Own Mini Fruit Garden is a great place for gardeners starting with backyard or container fruits.
It'll make you excited to start growing and harvesting your own fruit!
By Madison Pierce
If you're looking to grow oranges, lemons, or limes in containers, this book is for you!
Packed with detailed, step-by-step instructions and full-color photos and illustrations, Successfully Grow & Garden Citrus Fruit Trees Using Pots and Containers (Amazon link) teaches you how to care for, prune and harvest your fruit.
You'll learn the secrets to success with citrus fruit:
how to choose the right tree for your garden
how to select the best pots and containers
the correct potting soils to use
what kind of fertilizer to use
the best time to prune your trees
how to troubleshoot problems
how to identify common pests and diseases and how to treat them
and so much more!
This book covers everything you must know to grow and cultivate citrus fruit trees in containers.
With this book by your side, you'll be able to kick back, relax and enjoy sweet and juicy fruits you grew yourself in no time.
You'll never want to buy another overpriced and unripe orange again!
Books on fruit trees for organic growers.
By Orin Martin and Manjula Martin
Great for anyone who wants to grow fruit organically but doesn't know where to start, Fruit Trees for Every Garden (Amazon link) is the first gardening book you'll read from start to finish.
It covers every topic that a beginning fruit grower could imagine.
Pioneering organic orchardist Orin Martin takes you through every aspect of planning, planting, and caring for a productive fruit orchard.
It's the handy reference book you'll return to again and again for new ideas and fresh inspiration.
Martin makes a compelling case for organic gardening and shows gardeners what it means to be an organic orchardist.
He discusses how to plan and layout your site and describes the appropriate climate, soil preparation, site drainage, and weed control techniques.
He covers all the steps necessary to establish a lush, productive, and thriving orchard.
Fruit Trees for Every Garden (Amazon link) offers a straightforward approach to:
where to purchase trees
which trees to select for your yard
how and when to prune and fertilize
protecting trees from pests
irrigation
dealing with less-than-ideal soil conditions
Because this book covers a lot of ground, you'll quickly discover the answers to questions you didn't even know to ask.
And you'll get lots of tips on how to keep your new trees healthy and productive.
It's the only fruit tree book you'll ever need, and it's a must-have for any organic backyard orchardist!
By Michael Phillips
I'm sure you already know about the many incredible health benefits that whole, fresh fruit can provide you and your family.
And you've probably felt disappointed with store-bought fruit that doesn't taste all that good or has been treated with dangerous chemicals.
Have you ever wondered how easy it would be to grow an organic apple tree? How about growing your own pomegranates? Or tropical fruit?
If so, The Holistic Orchard (Amazon link) is the book for you.
It's a practical hands-on manual that demystifies the basic skills everybody should know about growing fruit organically.
And it takes a holistic approach to maintaining your home orchard.
Rather than addressing selected aspects, The Holistic Orchard gives you a complete overview of the whole orchard ecosystem.
It's a complete and easy-to-follow guide to growing your own organic fruit and covers everything from the basics of design and planning to the best management practices for a healthy orchard.
It profiles pome fruits (apples, pears, Asian pears, quinces), stone fruits (cherries, peaches, nectarines, apricots, plums), and berries (blueberries, raspberries, blackberries, gooseberries, currants, and elderberries).
Far more than a guide on how to grow specific fruits, this book is a resource for anyone interested in growing healthy, organic fruit in their backyard orchard.
It includes step-by-step instructions on essential topics such as:
planning and layout
soil health
organic practices
selection of rootstocks
choosing the best varieties for your climate
grafting
planting
pruning
It also has lots of charts & diagrams, and beautiful photos.
It's a how-to guide for growing and maintaining happy, healthy fruit trees, bushes, and vines.
With a few fruiting plants and this book, anyone can plant a productive backyard orchard!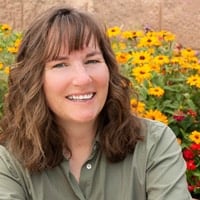 Hi, I'm Cheryl Spencer, a Certified Gardener.
Born with a plant addiction that has no known cure, I became a Certified Gardener to help ease the symptoms. Now I write articles and create gardening products that help you save time and money in your garden. I believe you can grow your dream garden and still have time to enjoy it. The good news? Anyone can do it. Start here »