Imagine…
Always knowing when to
plant, prune, and harvest.
All you need is the right checklist.
Step-by-Step Guide to Growing Kale in Your Square Foot Garden

By: Cheryl Spencer
Inside: Wondering how to grow kale in a small garden? Discover why it's a great choice for square foot gardens or raised beds. Learn how to space, plant, and grow it.
---
Download your free square foot gardening chart
It's easy to always use the right spacing for your vegetables. Just download the Square Foot Gardening Chart and:
Print it.
Put it in a handy spot.
Pull it out when you're ready to plant seeds or transplants.
It really is that easy!
Here's a sneak peek of your chart: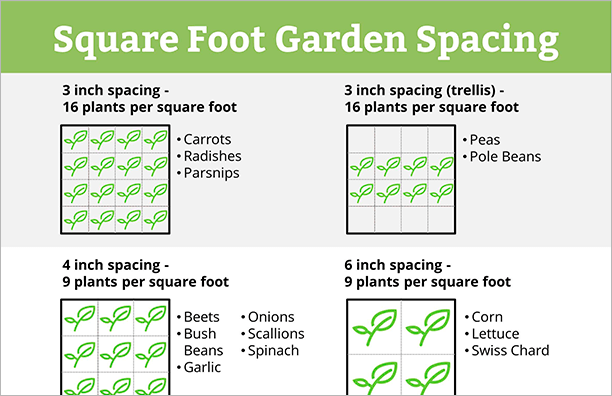 Your turn: Growing kale in your square foot garden
Have you used square foot spacing for your kale before?
Tell me how it went! Share in a comment below.
I never understood the appeal of kale until a fellow gardener (who I can only describe as a kale whisperer) showed me his kale.
He had two varieties growing side by side: one was a crinkly leafed, Siberian kale, the other, a Tuscan kale with elongated, bumpy leaves.
He pointed out that Siberian kale is very cold-hardy, but you must cook the mature leaves to eat them, while the baby Tuscan is good in salads and tastes a lot like spinach.
After plucking a few tender, young leaves and tasting them right there in the garden, I was hooked!
Luckily, kale fits perfectly into a square foot gardening layout, and is easy to grow, making it the ideal choice for novice gardeners.
Here are my best tips for growing kale in your square foot garden or raised bed.
This post may contain affiliate links which means I'll get a
small commission
if you make a purchase after clicking one of my links. I only link to products I use and recommend.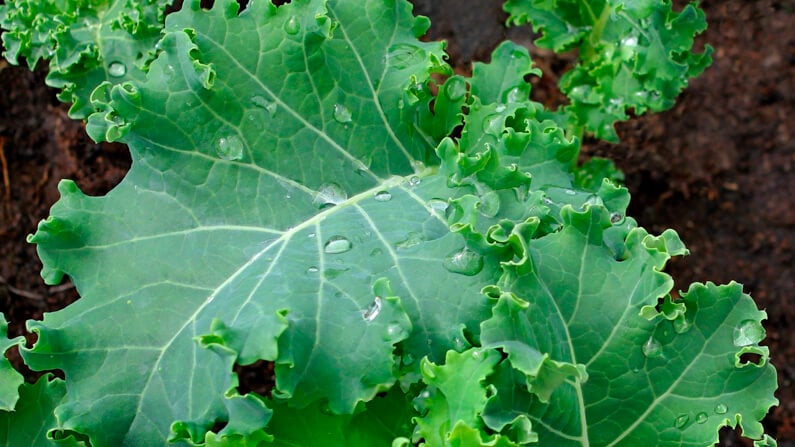 What's inside this article:
How to grow kale in a square foot garden
You can grow kale any time of year, but fall and winter-grown crops are much sweeter.
There are three main types of kale: Scotch, Siberian, and Lacinato kale.
Scotch kale has frilly leaves and is the most diminutive type of kale (12-14 inches), which makes it perfect for winter cold-frames.
It works well in stir-fries and salads (pick the tender, young leaves for your salad bowl).
Siberian kale withstands winter temperatures like a champ, grows 2-3 feet tall, and works well in cooked dishes.
Try the more tender, young leaves before adding them to a salad.
Lacinato kale, also known as "dinosaur kale," has outstanding flavor.
It can be used cooked or raw in soups and salads and makes fantastic kale chips!
My favorite kale varieties
Dwarf Blue Curled Kale – (Scotch kale) This hardy heirloom dates to the 1800s and will overwinter well in all but the coldest growing zones. It's best for fall and winter plantings but can take some heat.
Red Russian Kale – (Siberian kale) This beautiful kale variety first made its way to America in 1885. Its young, succulent leaves are perfect for salads, while the more mature leaves make for a beautiful sautéed kale.
Nero Toscana Kale – (Lacinato Kale) Aka "dinosaur kale," This 18th-century variety is a home cook's best friend. You can harvest baby greens for salads within 21 days or let the leaves mature for use in soups, stews, or to make crispy, nutritious kale chips!
Kale growing basics
Botanical name: Brassica oleracea
Kale is a member of the Cabbage family (Cruciferea)
Kale plant height: 12-36″
Kale is a frost-tolerant annual.
When can you plant kale? Plant it in summer (for your fall garden), fall (for your winter garden), and early spring for summer harvesting.
When can you start harvesting kale? You can harvest your first baby kale in about 28 days. It takes about 50-65 days for kale to mature when grown from seed. Check your seed packet for the exact number of days.
Related: Celery square foot garden spacing.
How to plant kale in your square foot garden
Kale can be direct sown as seeds or transplanted.
If you plan to grow transplants, start your kale seeds indoors four weeks before your last frost.
Plant your kale seeds 1/4-1/2″ deep.
The ideal soil temperature for germinating kale seeds is 70-95°F. Kale will germinate at lower temperatures (as low as 45°F) but will take longer to sprout.
The seeds should germinate in 5-10 days.
Kale seeds will last about five years.
Spring planting: transplant your kale or direct sow seeds after your last hard frost in the spring, or plant it earlier and protect it with row cover or cold frame.
Can you succession plant kale? Kale is perfect for succession planting. You can succession plant kale as often as every two weeks.
Watch a video from Rainbow Gardens about growing kale and other veggies in a square foot garden
What are good companions for kale? Any of the salad greens (like lettuce), broccoli, or cauliflower will be a good companion plant for kale.
Fall planting: Work backward from your first frost date.
To find the planting dates for a fall crop, add the following together:
The number of days it'll take for your seeds to germinate.
If you are transplanting, add the number of days it'll take to reach transplant size. (If you're direct sowing, skip this step).
The days to maturity.
Fourteen days (to adjust for shorter autumn days).
Take the total number of days you just added together and count backward from your first frost date to figure out when to start your seeds for a fall crop.
Related: How to plant spinach in a square foot garden.
Kale plant spacing in a square foot garden
Spacing for kale in a square foot garden is one plant per square foot for full-size kale and 9 per square foot for baby kale.
Wish you didn't have to spend one more minute Googling square foot spacing? Download a helpful square foot gardening planting chart.
1 plant per square foot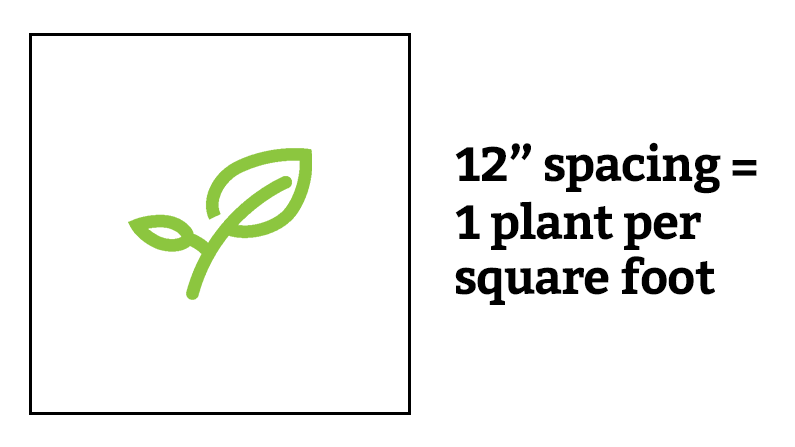 9 plants per square foot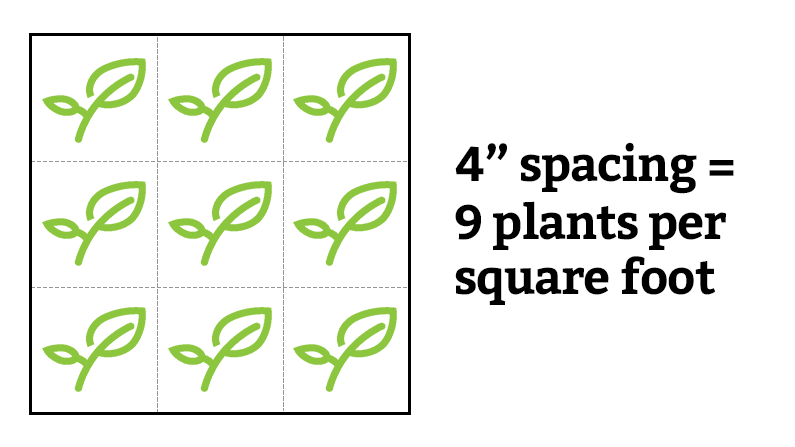 This kale spacing works in a square foot garden or a raised garden bed.
Once you know the proper spacing, it's time to mark out the holes in your garden and transplant your seedlings.
Pro tip: You don't need any special tools or equipment to plant your kale seeds. I use a ruler and a small dibbler tool.
Kale growing tips
How much sun does kale need?
Kale can tolerate shade.
Plant your kale in an area that gets at least 4 hours of sun per day (4-6 hours of sun is best). Its shade tolerance makes it perfect for partly-shady vegetable gardens!
If you're growing kale during the winter, choose a site with 5-6+ hours of sun.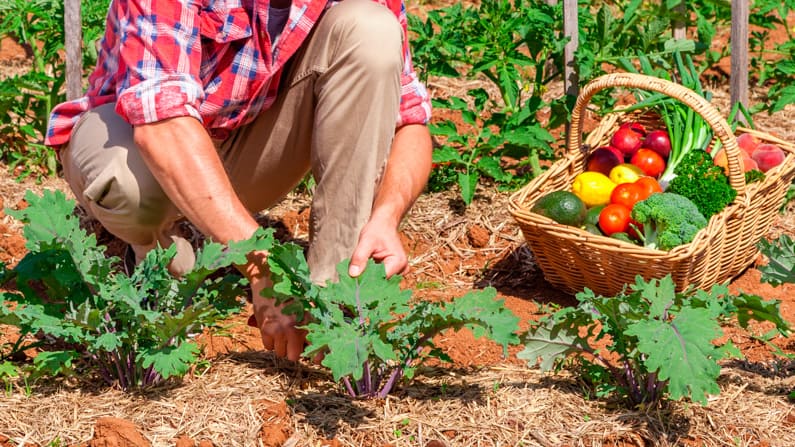 How much water does kale need?
Kale prefers cool, moist soil.
In fall gardens, cut back on watering after the first frost for better flavor and less frost damage.
How to fertilize kale
Kale, like its cabbage relatives, can be a heavy feeder. But too much fertilizer is as much of a problem as too little.
Fertilize your kale every two weeks with a light application of nitrogen.
Kale pests
Kale isn't bothered by too many pests. The most common are aphids and cabbage looper (which can be excluded with an insect barrier row cover). 
Harvesting kale
How do I know when kale is ready to harvest?
The flavor improves after a frost or two, but you can harvest leaves for fresh eating when they're big enough to toss into a salad.
If you want to cook your kale, wait until the leaves are at least the size (or length) of your hand.
How to harvest kale
Kale can be difficult to pick without a tool, so to prevent damaging the plant, use scissors or a sharp knife to snip the stems as you harvest the leaves.
Storing kale
I prefer to chop, lightly rinse and dry my kale. But sometimes, I store it whole and unwashed. The best method for storing kale depends on what type of kale you buy, what you will use it for, and how long you need it to last.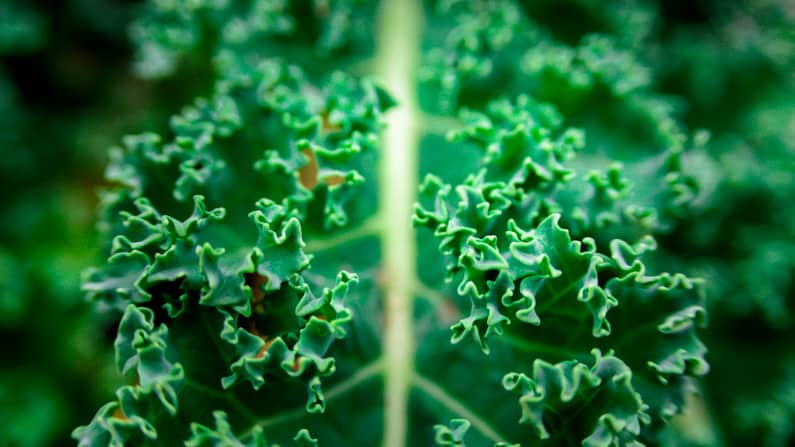 Option #1: Store kale whole in the fridge
With a bunch of fresh kale, it's important to avoid excess moisture.
Wrap the bunch in a not-too-thick layer of paper towels before placing them inside a plastic bag.
They'll last in your crisper drawer for up to five days when you store them this way.
Option #2: Store prepped greens in the fridge
Kale is one of the few greens you can wash and prep days in advance.
It rarely wilts.
To prep the leaves: stem, chop or tear the leaves, rinse them, and dry them well in a salad spinner (here's my favorite).
Then store the leaves, wrapped in a paper towel (to trap excess moisture) in a plastic bag, for 3-7 days.
Option #3: Blanch and freeze your kale
If you can't use your kale within a week, don't sweat it—you can freeze kale to use it in smoothies or soup later on.
All it takes is a quick blanch before you put it in the freezer.
Dry the blanched kale using a salad spinner or paper towels, then transfer it to a freezer bag and store it in the freezer for up to 8 months.
You can add it straight from the freezer to smoothies, soups, and stews.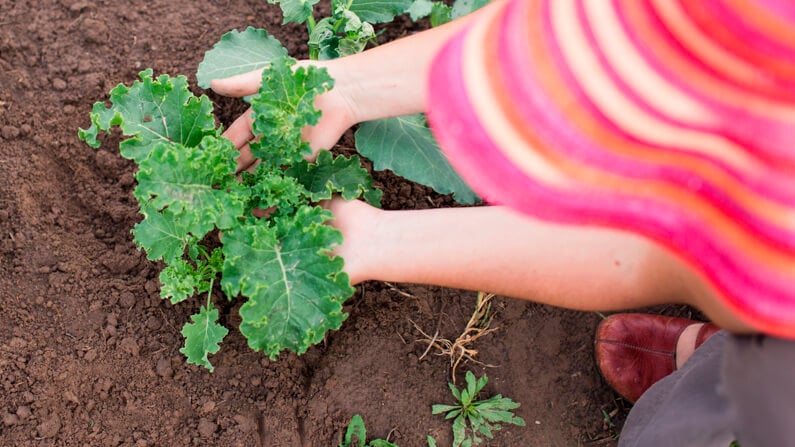 Frequently asked questions about growing kale
How many kale plants should I plant per square foot?
Space your kale at one plant per square foot to harvest large kale leaves and 9 per square foot for baby kale.
How much water does kale need?
Kale likes a nice, even supply of water – about 1 to 1.5 inches per week. If the soil gets dry, give it a good watering. Keep an eye on how much water it's received by using a rain gauge. Mulch your kale to keep the soil cool and moist. Weed-free straw finely ground leaves or pine needles will do the job!
Does kale need full sun?
No. You can still expect a healthy amount of leaves from your kale plants, even if you don't have a spot that gets full sun. Kale thrives when it receives at least 4-6 hours of sunlight per day.
How much space does a kale plant need?
• In a square foot garden or raised bed: one square foot.
• In a traditional row garden: 18 to 24 inches
Will Kale regrow after cutting?
Yes, kale continues to grow after cutting. Use a pruner or scissor to cut kale leaves and avoid damaging the plant.
What happens if you plant kale too close together?
The closer you space it, the smaller it will grow. How far you space your kale depends on your goals. If you're growing kale to harvest baby leaves or microgreens, it makes sense to plant them closer together. If you're growing kale to maturity, then you'll need to devote more space to each plant.
Should you cut the flowers off kale?
It's best to harvest and eat greens like kale before they begin to flower. That's because they get tough and bitter once they start to flower. Once they've flowered, toss them into your compost pile (or feed them to the chickens or goats) if you're not going to save their seeds.
How do I keep bugs off my kale?
The best way to keep flying bugs off your kale is with insect-weight floating row covers. Drape them over hoops and tack them to the ground to keep pests off your plants.
Can I plant spinach and kale together?
Yes! Kale and spinach are perfect vegetable garden companions because they share the same cultural requirements (water, light, and fertilizer).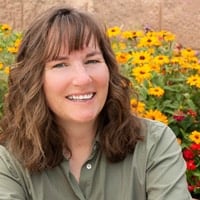 Hi, I'm Cheryl Spencer, a Certified Gardener.
Born with a plant addiction that has no known cure, I became a Certified Gardener to help ease the symptoms. Now I write articles and create gardening products that help you save time and money in your garden. I believe you can grow your dream garden and still have time to enjoy it. The good news? Anyone can do it. Start here »