Imagine…
Always knowing when to
plant, prune, and harvest.
All you need is the right checklist.
April Gardening: What You Need to Do This Month

By: Cheryl Spencer
Inside: April gardening tips.
---
As the weather in April grows more gardener-friendly, take advantage of it! Getting some things done now will reduce your workload later when the summer heat sets in.
If you haven't begun a garden journal, now is a fantastic time to start one. Choose a format that you'll actually use (paper or electronic). The longer you keep a journal, the more you'll learn about your garden. It'll become a prized resource.
April is a busy time in the garden, no question, but this checklist will help you keep on top of things! 
Keep reading to find out what to do in the garden in April.
This post may contain affiliate links, which means I'll get a
small commission
if you make a purchase. I only link to products I use and recommend.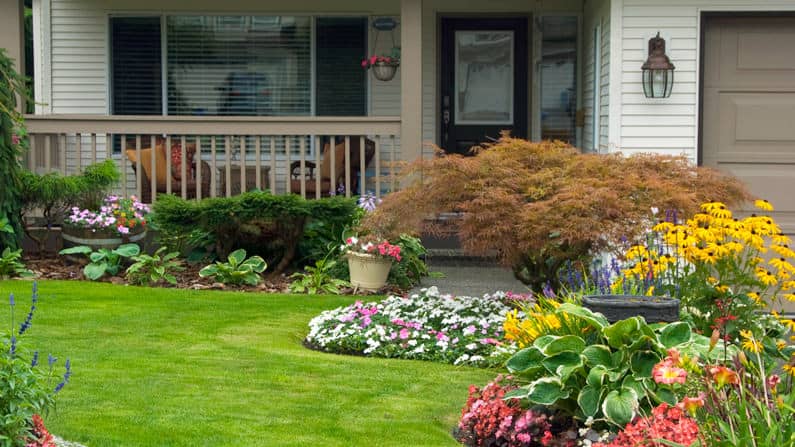 April Gardening: Maintenance Tasks
Clean up the garden to get ready for the season ahead. Remove last year's dead plants and rake back the extra mulch you applied last year to protect plants over the winter. Shred and compost everything except diseased plants.
Evergreen and deciduous hedges may be sheared. Prune the top narrower than the base so the sunlight will reach the lower limbs.
Remove tree wraps from young trees.
Prune off Viburnum-beetle egg cases before the larvae hatch.
Related freebie: Download a FREE landscape maintenance checklist pdf
If it was too cold to do so last month, remove winter covers from your bush, climbing, and tree roses.
Remove winter covers from any plants that are marginally hardy in your area.
Stake floppy rose growth and tie up climbers.
Complete pruning chores on trees and shrubs– remove dead and injured branches first.
Prune spring-blooming shrubs (those that bloom before June) such as forsythia and spirea after they have completed flowering.
Related: What to plant in April.
My favorite pruning books and tools
Prices last updated on 2022-12-02 at 08:31
Trim groundcovers to remove winter burn and tidy plants up.
Repair support trellises as needed.
Replace any plant labels that have deteriorated.
Water your garden if your soil is dry.
Protect tender garden plants from late freezing temperatures.
Divide ornamental grasses when new growth begins to emerge
Related: How to create a low-maintenance yard.
Apply chelated iron (FeEDDHA) to plants with prior problems with Iron Chlorosis. And avoid overwatering in the spring. This is the most common cause of chlorotic plants in the spring.
Check sprinkler systems for leaks, clean filters, fix and align heads
Remove finished compost from the bottom of the heap to make room for incoming debris.
Add mulch to your gardens if it's getting thin.
WEED! Small, newly emerging weeds are easier to remove, and if you keep on top of the weeds through June, the rest of the season will be much more manageable.
April Garden Planning and Journaling
Start keeping track of your weekly rainfall in your garden journal. Measure the rainfall with a rain gauge so you can tell when to water. Your garden needs about one inch of water per week from April to September.
Watch for pests and diseases. Make a note of what happens and when.
Plan container plantings for decks, patios, and other places.
Look for gaps in your landscape that could be nicely filled with bulbs. Take photos of these areas and make a note to order bulbs in August.
Start a naturalist's notebook. Keep a journal of nature observations, and create a record of nature in your garden.
April Lawn Care Schedule
Apply a pre-emergent herbicide to control crabgrass in lawns. The exact timing varies each year with weather conditions. For a precise application timing based on Growing Degree Days (GDD), visit Michigan State University's GDTracker. Enter your zip code and select "Crabgrass PRE." The target GDD window for crabgrass prevention is 250-500. For severe problems, a second application might be necessary in early June. Wait about eight weeks before re-seeding any areas where you spread crabgrass pre-emergent.
Overseed sparse areas in lawns, but don't apply crabgrass pre-emergent to these areas.
If you didn't do so last month, stock up on lawn fertilizer for the season. Even though the bulk of the fertilizer you feed your lawn should be applied in the fall, this is the time of year to purchase fertilizer.
Remove sticks, rocks, and other debris from your lawn to prevent damaging your lawnmower or injuring yourself when mowing.
Start mowing cool-season grasses at recommended heights. Check with your cooperative extension for the correct mowing heights.
My favorite lawn care books
Prices last updated on 2022-12-02 at 02:41
Wildlife in Your April Garden
Put a birdhouse or two in your garden to attract insect-eating friends, if you didn't do this in March.
Take advantage of spring planting time to add bird-friendly plantings to your yard. Plant groups of shrubs in your yard to break up big open spaces. Provide cover for birds with deciduous trees. Add "corridor" plantings that allow birds to safely travel through your yard by flying from plant to plant.
Plan to plant a hummingbird garden, if they frequent your area. The first scouts will show up soon!
Watch for bats at dusk (if you have them where you live). They're important insect predators.
April Houseplant Care
Apply fertilizer to houseplants according to label directions as days grow brighter and longer and new growth begins.
Continue to bring houseplants inside at night but outside during warm days. Most houseplants can remain outside when night temperatures are consistently 40 to 50 degrees. When in doubt, wait until after your last frost before placing houseplants permanently in the garden.
If orchids have finished flowering, begin to fertilize regularly with a very dilute orchid fertilizer with every watering. Monitor them closely for scale.
My favorite houseplant books
Prices last updated on 2022-12-02 at 08:31
Download Your Free April Garden Checklist
You'll always know what to do when!
Join my weekly-ish newsletter, and as a bonus, you'll get the printable checklist! Click here to download and subscribe.
Here's a sneak peek of your checklist: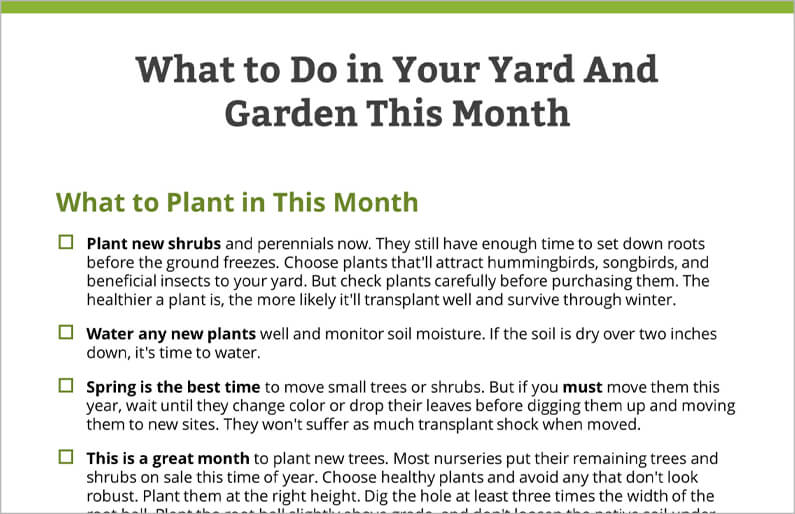 Download the April gardening checklist now. You'll be sure to get the right things done in your garden every April!
Want More Monthly Gardening Info?
If you liked this article, you'll love my post about gardening in May.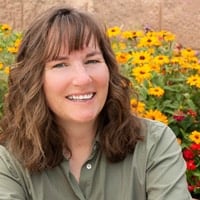 Hi, I'm Cheryl.
I'm a certified gardener, bird lover, and spreadsheet enthusiast. I believe you can grow your dream garden and still have time to enjoy it. I teach online gardening courses and write articles that help you save time and money in your garden. Join my mailing list, and as a bonus, you'll get a helpful checklist that'll tell you what to do in your garden right now.