Want a Weed-Free Garden? Here's How to Weed a Garden but Not Spend Hours Doing it!
---
Sometimes gardening can feel like one long war against the weeds.
And even though it can sap your morale, you can't stop fighting.
If you let the weeds outflank you, they'll steal nutrients from your soil, crowd out your plants and even grow tall enough for the neighbor's dog to get lost in them when he wanders into your garden.
And the sad truth about the weed war? You won't ever win. You'll always be fighting on the front lines – if you want a garden instead of a weed patch.
But there is good news…
…with a battle plan and the right weapons you can have a (mostly) weed-free garden.
Here's what you need to know about the best way to weed your garden.
Heads up: If you buy something after clicking a link in this post, I'll earn a small commission. I only link to products I'd recommend to my best friend.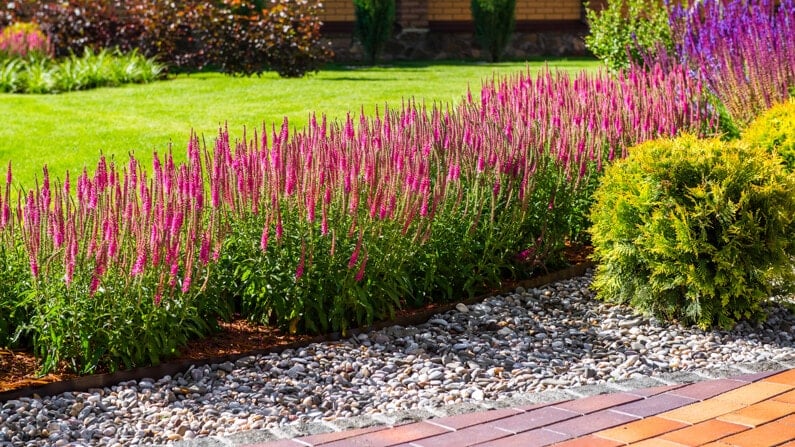 How to weed a garden: know your enemy
It's essential to know how and when to attack your weeds.
And you can't know that until you know what weeds you're fighting.
Different weeds have different survival strategies.
Summer annuals germinate in the spring and bloom in the summer. Examples include crabgrass and puncture vine.
Winter annuals germinate in the late summer or fall and hunker down over the winter so they can come to life first thing in the spring.
Perennials can be simple or creeping. Examples of simple perennials include dandelion and foxtail barley. Examples of creeping perennials include quack grass and Canada thistle.
Biennials grow a rosette of leaves the first year and don't bloom until their second year.
And you can exploit each of these survival strategies.
The first thing to do is identify what type of weed you're dealing with. Here's how to use google lens to identify plants, including weeds!
Then you'll know what strategies work best to fight it.
Understanding each weed's growth cycle tells you when herbicides will be most effective, and when you can expect them to set seed.
"What is of supreme importance in war is to attack the enemy's strategy." – Sun Tzu
My favorite books for identifying weeds
At least one weed identification book belongs in every gardener's library.
Weeds of North America It covers more than 600 species from 69 plant families at every stage of growth.

What I love about this book: It has close-up photos, which makes identification easy.
Common Weeds Coloring Book The 45 weeds illustrated are common weeds, likely to be found almost anywhere in the United States.

What I love about this book: It makes you concentrate on a particular weed. And in the process, I've retained more information about a weed when I take the time to color it in.
All About Weeds It lists 102 of the most common weeds found throughout the United States. Each weed description includes its scientific name, common name, and alternative common names. It also includes details for controlling each weed.

What I love about this book: The descriptions are enlightening, educational, and entertaining. Kick back on the grass and get lost in the pages of this captivating read as you're surrounded by a curious array of weeds.
Prices last updated on 2023-12-07 at 20:02
Related: The Best Gardening Books for Beginners
Websites for identifying weeds
Start with a good defense
So, now that you've identified the enemy, it's time to put a plan in place.
Preventing weeds from sprouting is the best way to limit their assaults. Your goal? Make your garden inhospitable to weeds and their seeds.
1. Smother them
One of the best ways to prevent weeds seeds from germinating is to mulch your garden beds.
A natural mulch like wood chips generally works best for weed suppression, but some inorganic mulches like plastic mulch, when used in vegetable gardens, can suppress weeds.
Choose the best weed-suppressing mulch for your garden
Download my free Mulching Cheat Sheet so you can choose the best mulch for suppressing weeds in your garden. You'll get all the details you need about each type of mulch.
But what about landscape fabric? I don't recommend using landscape fabric for weed suppression. It's a short-term solution with no long-term benefits.
The pores eventually clog and creates an unhealthy soil environment.
Weed suppression quickly declines.
And you can't garden with it.
Prices last updated on 2023-12-08 at 08:38
2. Don't water them
How you water matters.
One tactic that prevents weed seeds from sprouting is to keep your soil surface dry.
Hand watering or using a sprinkler to water your garden encourages weeds to sprout.
Whereas, drip irrigation discourages weeds because it'll keep the surface drier.
Even if they do sprout, infrequent, deep irrigation can kill many shallow-rooted weeds.
They dry up and die.
3. Block the sun
Fill your beds with closely spaced plants, and your plants will shade out the weeds.
Using square foot or intensive plant spacing in your vegetable garden and leaving no gaps in your flowerbeds helps suppress weeds by depriving them of sunlight.
"The supreme art of war is to subdue the enemy without fighting." – Sun Tzu
4. Don't scalp your lawn
Many common weeds won't survive frequent mowing.
But mowing your lawn too short encourages weeds to sprout because it reduces the density and vigor of your turf.
You should mow your grass when it's one-third taller than it should be.
The recommended mowing height for most turf is between 2 and 3.75 inches.
Attack the enemy when necessary
When weeds break through your perimeter and sprout, you need a battle plan for conquering them.
There are several different tactics you can use to defeat weeds that have sprouted. Create a plan that works for you. When you stick with your plan, you'll have fewer weeds to fight.
1. Set a schedule
Weed daily, or at least several times a week.
Some gardeners weed only once a week.
But that gives the weeds enough time to grow deep, strong roots.
What's the better strategy?
Weed a little every day.
Or at least several times a week.
That way, your weed problem never gets out of hand.
"Know yourself, and you will win all battles." – Sun Tzu
2. Choose the right time
Timing is everything when it comes to controlling weeds.
Weeding more frequently in the first months of spring and summer will pay off big time the rest of the season.
The best time to kill a weed is when it's still small. It won't have set seed yet and is easier to kill.
The second best time to kill weeds, if you pull them, is when the soil is damp. The roots come out much easier.
If you hoe to kill small weeds, do this when the soil surface is dry. But don't hoe too deep. You'll bring weed seeds to the surface, where they'll get enough light and water to sprout.
Related: What to plant in August.
3. Pull gently and re-mulch
Pulling weeds and removing the root system ensures most won't return.
To kill some weeds, they need to be pulled several times.
And perennial weeds are the worst offenders. For some perennial weeds spraying with an herbicide may be the better choice.
How to pull weeds by hand
Your goal when pulling weeds is to disturb the soil as little as possible. When you disturb the soil, you bring more weed seeds to the surface.
After you pull a weed, it's also important to smooth out your mulch and cover that spot back up. This helps stop any seeds you've brought to the surface from sprouting.
And you should remove all weeds from the garden after pulling them. This prevents any seeds that may have formed from spreading. And some weeds, like purslane, can re-root if you leave them in the garden.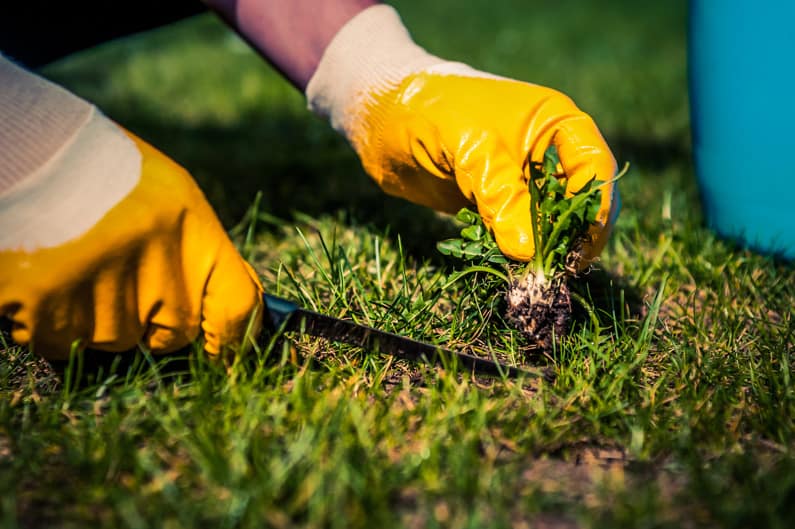 My favorite weeding tools
Metal garden weeding bucket The best way to make weeding easier and more convenient is to create a weeding bucket, so your tools are always ready and waiting for you.
CobraHead Weeder Ideal for digging or weeding. Its lightweight, one-piece, polished aluminum alloy construction makes it sturdy.
Kangaroo Bin Indispensable for collecting weeds and other garden debris. It folds up compactly for storage. Make sure you get the one with the hard plastic bottom. It'll hold up much better to regular use.
Border Fork A small-scale garden fork like this is ideal for digging out larger weeds in confined spaces.
Kevlar Garden Gloves Need to pull thorny or prickly weeds? Try a pair of Kevlar gloves. These run a bit large, so I can use a second pair of gloves underneath when pulling nasty, spiny thistle.
Kneeling Pad This is the best kneeling pad I've ever bought! It's much thicker than other kneeling pads I've owned and is the right size for working anywhere in the garden.
Stainless Steel Garden Weeder It's strong enough to dig dandelions and tougher weeds like thistle, Queen Anne's lace, and burdock without bending.
Digging Trowel This trowel has a sharp tip and slices easily through tougher soils and fibrous roots.
Prices last updated on 2023-12-08 at 08:38
4. Off with their heads
One tactic you can use if you're short on time and weeds have set seed is to cut off the seed head.
This stops them from spreading seeds everywhere.
But it's a stop-gap measure.
You still need to pull the weed later.
If weeds have grown so big that you aren't able to pull them—or if they're so close to other plants that pulling them would mean risking the roots of plants you want to keep—then chop off the weeds at the soil line.
This kills them slowly and prevents them from going to seed.
You may have to cut them back multiple times, but eventually, they'll die out.
This is especially useful for biennial weeds that have sent up seed stalks. Just cut it off at the soil line, and It'll die over the winter.
5. Spray when necessary
Before choosing to use an herbicide (even an organic one) to battle your weeds, you should consider the pros and cons of spraying weeds to kill them.
Pros of spraying your weeds:
Using herbicides can be effective when you choose the correct one.
Can be cost-effective for managing large areas.
Provides relatively easy, quick control.
Cons of spraying your weeds:
Organic herbicides kill only the leaves of the plant, rather than killing the roots. These are known as contact herbicides and work best on annual weeds. Many weeds will grow back after being sprayed.
Most herbicides take more than one application to work effectively, not just organic ones.
Using herbicides can damage the environment when they're incorrectly applied.
If you still feel like an herbicide is the best choice for your situation, spend some time learning about the different types of herbicides and how to use them.
Related: Does corn gluten work for weed control?
You'll win the battles (even if you can't win the war)
Even the most vigilant gardener can't stop every single weed from finding its way into their garden.
But if you develop a good battle plan and choose your weapons wisely, you can stand your ground against their ceaseless attacks.
And maybe that neighbor's dog will stop getting lost in your weed patch!
Download Your Free Weed-Suppressing Mulch Cheat Sheet
Download your free Mulching Cheat Sheet so you can choose the best mulch for suppressing weeds in your garden.
Here's a sneak peek of your Mulching Cheat Sheet:
Download the cheat sheet and select the best mulch in three easy steps
Go to the page "Choose Your Perfect Mulch" and note what plants you want to mulch.
Then check off the top three things you want this mulch to do for your garden.
Once you have the answers to those questions, look through the list of mulches to find the perfect mulch for your needs.