Rainpoint 2 zone wifi sprinkler timer review
I received this product free in exchange for an impartial review. I had the opportunity to try out a great product at no cost and am happy to provide my honest feedback!
This water timer is easy-to-install and lets you control your sprinkler system from anywhere.
It's a 2-zone timer, which means you can control two different areas of your garden or lawn independently.
And for those of you who love using voice control, you'll be excited to know the timer is compatible with Google Home and Alexa.
With the RainPoint app, you can set custom schedules for your watering system, adjust the watering duration and frequency, and even pause the system in case of rain.
It's an ideal option for gardeners with small to medium-sized lawns and garden beds.
And it's perfect for watering your outdoor plants when you're on vacation.
My experience with the RainPoint water timer
Getting the hub to connect to my wifi wasn't entirely painless.
The app couldn't connect to the hub and eventually timed out.
But then it gave me the option to try an alternate setup where I turned the hub into a hotspot.
And boom! It worked.
So, if you're having trouble connecting:
Let the app do its thing, and make sure the timer runs down to zero before giving up.
It may give you that alternate connection option, as it did for me.
If that doesn't work and you can't get it connected, contact customer service to get help.
Once I got past that initial hiccup, it's been a breeze to set up and use!
The timer runs on four AA batteries. And the battery life seems good.
I've used the app to control sprinklers when I'm out of town, and I've loved the easy programming and the ability to skip watering if it rains while I'm gone.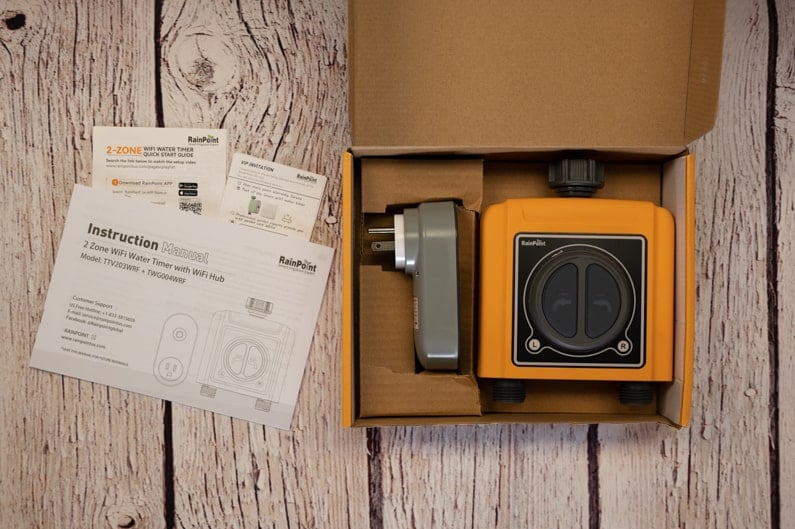 Features and benefits of the RainPoint 2-zone wifi timer
Control your sprinklers from anywhere and enjoy the convenience of being able to make changes to your schedule on the go.
Each of the two smart zones can store up to three programs, so you can relax and enjoy your free time while your plants get exactly the water they need.
Save water with the help of a built-in water usage meter, and get alerted when there's a leak. You'll save money on your water bill and help the environment by conserving water.
Control your hose faucet with voice commands using Google Home or Amazon Alexa. You don't have to lift a finger to water your plants when you have a helpful assistant watering your plants for you.
You can still water your plants manually if you want to. You have the option to start the timer manually by pushing the button on the timer rather than starting it remotely through the app.
Pair the smart timer with a soil sensor to get real-time data on soil moisture and temperature levels so you can automatically stop watering when you need to.
Built-in rain delay function helps you conserve water and reduce your water bill.
Pros and cons of the RainPoint sprinkler timer with wifi
Pros:
This set-it-and-forget-it timer means no more forgetting to water.
Relatively easy for most people to install.
The app is intuitive and makes it easy to set up and schedule your watering, ensuring your yard stays lush and green all season long.
The ability to change settings from your phone saves you from having to go outside and manually change them.
You can manage two zones from one setup or add up to three additional timers and control as many as eight zones from one wifi hub!
Works with Alexa and Google Assistant.
Much more affordable than installing a professional sprinkler system.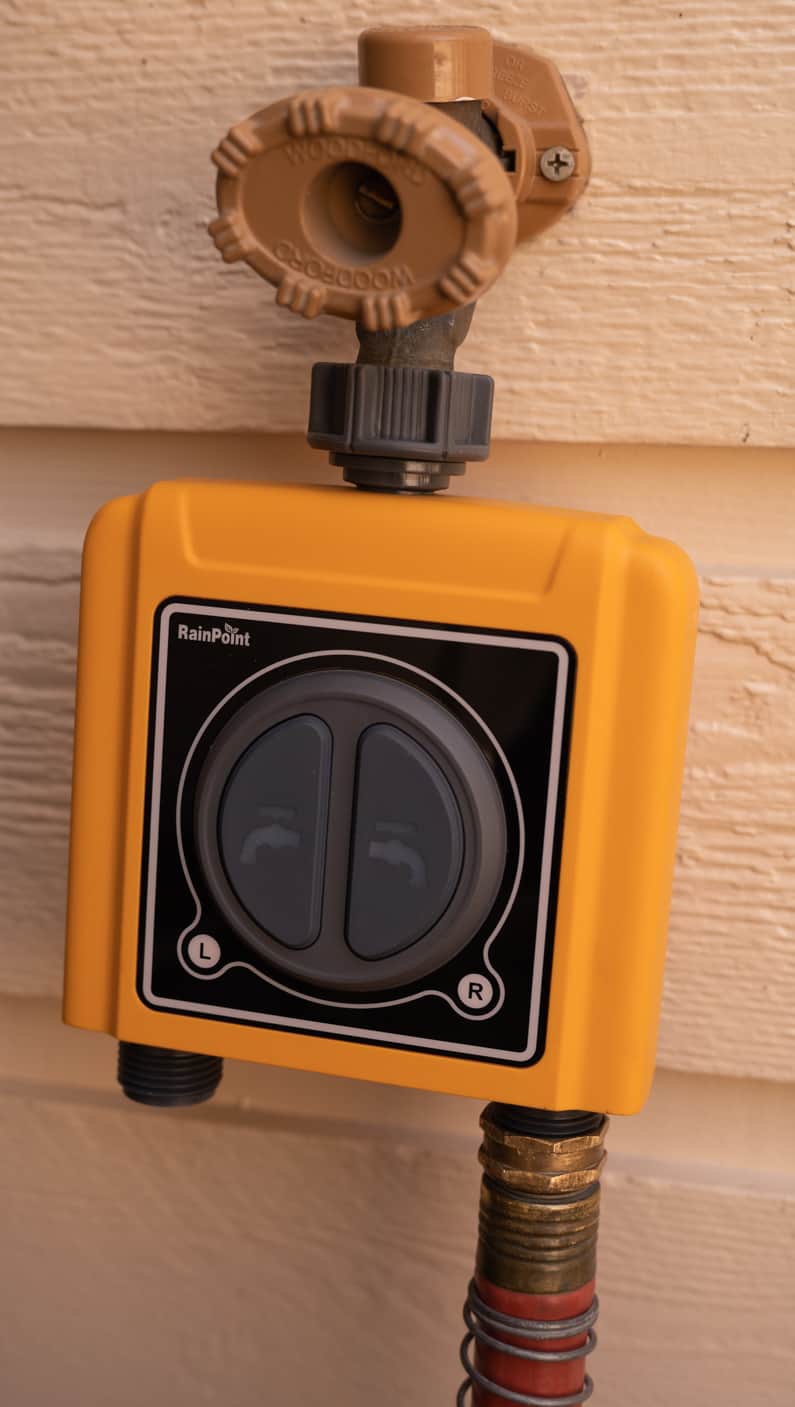 Cons:
The official setup instructions have confused and annoyed some people.
The manual could be improved with clearer instructions for various situations.
Users have complained that the app has some irritating flaws and have run into trouble with turning schedules off and implementing the rain skip function.
The connections are plastic, so be careful when connecting the timer to your faucet and garden hose. You don't want to strip the connections.
Each hub can only connect to four timers. If you need more than that, you'll need to purchase multiple hubs.