Watering Plants While Away: How to Make Sure Your Plants Are Happy

By: Cheryl Spencer
Inside: Watering plants while away: Get my 5 tips for watering your plants while on vacation.
---
As I got ready to go out of town for ten days, I ticked off the last few items on my travel checklist:
Sunscreen
Boarding pass
Fill wine bottles with water
Filling those wine bottles was one of the most important gardening tasks I had to do before I left. And I'll tell you about that in a minute…
Taking a vacation has many benefits: lower stress levels, a better outlook on life, and creating memories with friends and family.
But…how can you leave for more than a few days when you're worried about whether your plants will survive while you're gone?
You've worked hard to create your garden, and the last thing you want is your plants to wilt, turn crispy, and die from a lack of water while you're gone. That would be devastating!
Here's the good news…
It's easy to make sure your plants get the water they need while you're away.
Every single time.
It just takes a little prep work and planning before you leave.
Here are the exact steps I follow to keep my garden watered and happy while I'm on holiday…
…and it includes filling wine bottles with water before I leave.
And the best part? These tips will also save you time on watering when you're home but too busy to drag a hose around from plant to plant.
Will my watering system work while I'm gone for ten days? Keep reading to find out!
This post may contain affiliate links, which means I'll get a
small commission
if you make a purchase. I only link to products I use and recommend.
1. Watering container plants while away for seven to ten days: plant stakes
Best for: container plants
If you have plants in containers plant stakes are an excellent choice.
Simply insert a wine bottle filled with water into the terracotta stake, and the water releases slowly and steadily while you're away.
You can also use these when you're home. They supply a steady stream of water to your plants and need to be filled about once every seven to ten days. Depending on the size of the pot, you may need to use two or three stakes per pot.
My favorite tools for this setup:
Steps to follow:
Water your containers thoroughly.
Take the plant watering stakes out of the box and soak them in a sink of water for two hours.
Take a stake out of the sink and gently press it into the wet soil about two to three inches from the center of the pot. If it's hard soil, use a trowel to make the hole so you don't break the plant stake. They can break if you're rough with them.
Fill an empty wine bottle with water (Perrier 750 ml water bottles also work well).
Insert the bottle into the wine bottle watering stake. Work quickly to avoid losing too much water.
Alternatively, you can try taking the stake out of the soil and putting it on top of full the bottle. Then flip the whole thing over and put it back into the soil. I find this tends to loosen the soil around the stake, so I do it the first way.
I also fertilize the plants right before I leave.
Shop for supplies:
Prices last updated on 2022-07-02 at 12:09
Watering Plants - Self Watering System
2. Watering plants while away for one to two weeks: sprinkler and a timer
Best for: watering large areas or containers lined up in a row
This setup can work well in a pinch if you don't have time to set up drip irrigation or soaker hoses (see below), and you need to water a large area.
There are two types of sprinklers that I recommend: rotary sprinklers and oscillating fan sprinklers.
Rotary sprinklers
These are usually best for round, or triangle-shaped areas.
Oscillating fan sprinklers
Oscillating fan sprinklers work best for a large square or rectangular area They also work well for pots that are lined up in a row, along a wall, for example. I have a number of pots set up along the base of a retaining wall, and this setup works like a charm.
Since fan sprinklers don't put out a lot of water, you may need to run them several times a day.
My favorite tools for this setup:
Steps for using a sprinkler and timer setup:
Test and set up the sprinkler a day or two before you leave.
Set out some empty containers to catch the water and measure how much the sprinkler is putting out each time it runs.
Make sure it's covering everything it needs to, and it's putting out enough water for your plants.
Shop for supplies:
Prices last updated on 2022-07-02 at 06:29
3. How to water plants while away for 2 weeks or more: soaker hoses and a timer
Best for: Areas that don't have in-ground irrigation, but are too large or irregularly shaped for a sprinkler.
Soaker hoses also work well if you want to avoid watering garden foliage to cut down on disease. They provide deep, thorough watering while using less water than sprinklers.
Soaker hoses work well in vegetable beds and around trees and shrubs. It can be difficult to get proper coverage in flower beds where plants are spaced closely together.
My favorite soaker hose, from Dramm, is made from high-grade rubber with thick walls that eliminate the "geyser effect" of other soaker hoses, which saves water, and helps reduce evaporation.
Steps for using a soaker hose and timer setup:
Straighten out your soaker hose in the sun for a few hours before laying it. Warming it in the sun helps to straighten it.
Lay the hose in your beds. Put it several inches away from plant stems.
Use ground staples to hold the hose down.
Attach the hose to your timer.
Test and set up the soaker hose for at least a week before you leave.
Check the soil to make sure it's putting out enough water for your plants.
Adjust the timer so you're not over or under watering your plants.
Shop for supplies:
Prices last updated on 2022-07-02 at 06:29
4. How to water your plants while you're away for two weeks or more: drip irrigation and a timer
Best for: containers, vegetables, and some perennial plantings.
If you have lots of outdoor containers, you may want to consider using a drip watering system designed for containers and control it with an automatic timer.
It'll take care of your plants while you're away, and save you time when you're home!
These systems are simple to put together and it's easy to design them to fit your garden's layout or containers' needs.
Shop for container drip irrigation supplies:
Prices last updated on 2022-07-02 at 06:29
Drip irrigation also works well for vegetable beds and some perennial beds.
A basic drip irrigation system will set you back about $100, but it will last for years. And you can redesign it as your needs change.
Shop for drip irrigation supplies:
Prices last updated on 2022-07-02 at 06:29
5. How to water plants anytime, anywhere: the ultimate solution
Only for: in-ground sprinkler or drip irrigation systems that are linked to a controller unit
Imagine if you could turn your sprinkler system off if it rains when you're not home…Well, you can with Rachio. It's the ultimate sprinkler system and drip irrigation controller!
Rachio is an easy-to-install controller that connects to your home Wi-Fi so you can adjust your in-ground sprinkler or drip irrigation system from anywhere using your phone. It offers the latest weather-based scheduling technology and works with lots of other smart devices.
Rachio pulls weather data from more than 300,000 weather stations, satellites, and radar sources to provide the best possible watering schedule for your area. So, it alerts you if it thinks it needs to skip a cycle because you've had enough rain.
I have two Rachio controllers and love how easy they are to use!
I also love being able to control my sprinkler and drip irrigation system while I'm traveling.
Shop for supplies:
Prices last updated on 2022-07-02 at 10:00
Did my garden survive my ten-day trip?
Even though it was dry as a bone, windy, and in the 90s while I was gone, everything worked like a charm.
These setups work in my arid climate, so I know they'll work for you, wherever you live.
What about the containers that were only watered with empty wine bottles?
I didn't lose a single plant to water or heat stress.
And that's why "fill wine bottles with water" is always on my vacation checklist!
Your turn…
How do you keep your plants watered while you're away?
Do you fill a dozen empty wine bottles before you leave like I do?
Share in a comment below!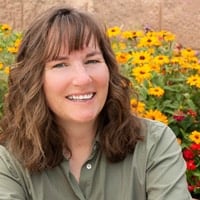 Hi, I'm Cheryl.
I'm a certified gardener, bird lover, and spreadsheet enthusiast. I believe you can grow your dream garden and still have time to enjoy it. I teach online gardening courses and write articles that help you save time and money in your garden. Join my mailing list, and as a bonus, you'll get a helpful checklist that'll tell you what to do in your garden right now.