21 of the Best Free Seed Catalogs in 2023 [Vegetable + Flower Seed]
INSIDE: Looking for free seed catalogs? Here are the best seed companies for quality vegetable and flower seeds. They're the top online + mail-order catalogs in 2023!
---
Nothing helps cure a gardener's cabin fever like a thick stack of seed catalogs.
As you page through each one, your garden springs to life in your mind's eye …
You picture the green shoots poking up through the soil, seedlings soaking up the sun, and juicy tomatoes, ripe and ready for backyard dinners.
There's a lot to look forward to in your garden this year, and it all starts with a few good seed catalogs.
But how do you know which ones are right for you?
I've created this list of the best seed catalogs to make it simple for you! Keep reading for my top picks…
What's inside this article about the best free seed catalogs:
Heads up: If you buy something after clicking a link in this post, I'll earn a small commission. I only link to products I'd recommend to my best friend.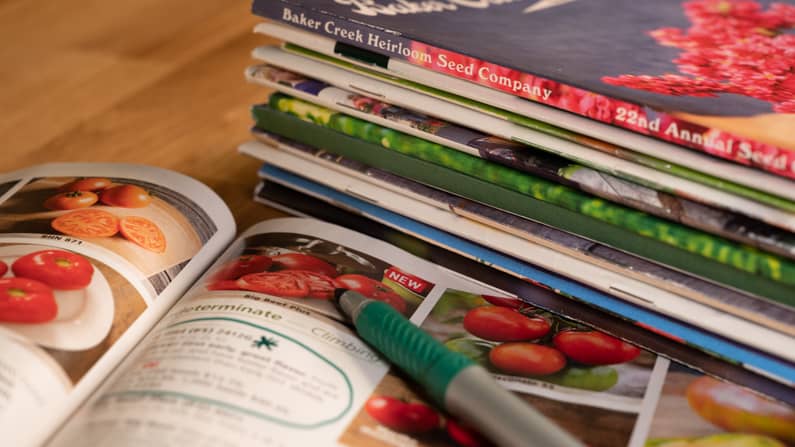 What makes these the best seed catalogs?
There are hundreds of seed catalogs out there, but only certain ones made it onto this list.
And these aren't just the most popular seed catalogs…
These are the seed catalogs I order from year after year. The first 10 are the ones I've had the most experience with.
But you can't go wrong with any of the catalogs on this list.
They all offer a wide selection of seeds geared toward home gardeners, have good customer service, and provide helpful growing information.
The best part? They're all free!
Related: How long will seeds last?
How to get free seed catalogs by mail
All of these catalogs are available online.
But I find it incredibly satisfying to thumb through a stack of catalogs on a winter's day as I circle "just one more" tomato variety.
But really, can you ever have too many 🍅🍅🍅?
It's easy to request print catalogs.
Every seed company that offers one has a page on their website where you can request a catalog.
A couple of catalogs on this list don't have a print version, and I've noted that.
But a word of warning, if you're a new gardener, stick to just a couple of catalogs, to begin with. Too many catalogs all at once can feel a bit overwhelming.
The catalogs on this page ship to addresses in the United States and Canada unless otherwise noted.
Top 10 Seed Catalogs
1. Botanical Interests
I've been a big fan of Botanical Interests for a long time, especially since they're located in my home state of Colorado.
A few years ago, I took a tour of their headquarters and saw first-hand how well-run and detail-oriented their operation is.
I've grown their seeds for years and have always had great germination rates.
And at the beginning of each season, I look forward to pulling out their seed packets. They're lovely little inspirational works of art. (They even offer prints of the illustrations that you can frame and hang on your wall.)
Their print seed catalog (or digital version) features the same gorgeous illustrations featured on their seed packets. It's also filled with sowing, growing, and gardening tips.
Why buy from Botanical Interests?
They specialize in heirloom and open-pollinated herb, vegetable, and flower seeds for home gardeners. They do carry a few hybrids, and many of their seeds are certified organic.
Your seeds arrive in beautifully illustrated seed packets with detailed sowing information on the back and a mini growing-guide printed inside the packet. They manage to include a lot of helpful information on (and in) each packet, including plant history, landscape ideas, organic gardening know-how, recipes, and fun facts.
All the gardening tools and products they carry are made in the U.S.
They have excellent customer service, and their employees are dedicated to giving you the best gardening experience.
What sets Botanical Interests apart from other seed companies?
Packet Points: Earn points toward free seeds with every order! Who doesn't love free high-quality seeds?
Online wish list: Create an account to set up wish lists of seeds and gardening products that you can refer back to or email to family and friends.
Helpful newsletter: When you sign up for their email newsletter, you'll get tips and tricks for gardening success, recipes, and craft ideas.
They also offer Online Catalog Exclusives. These are seeds you'll only find in their online store.
Visit Botanical Interests | Request a print catalog or download a digital version
You can find everything you need to start growing from seed right here in one catalog!
Please note, Botanical Interests only ships to the U.S.
2. Renee's Garden
Renee's Garden is a garden-to-table seed company run by gardeners for gardeners.
Renee Shepherd founded Renee's Garden in 1998. And the catalog features her carefully selected and thoroughly tested seed choices from seed growers around the world.
Renee's life mission is to ensure that gardeners of all experience levels can purchase seeds that'll perform well in their garden, no matter where they live.
And she's succeeded!
I've not only been a Renee's Garden customer for years and had great success with their seeds. I also own and cook from Renee's kitchen garden cookbooks.
Why buy from Renee's Garden?
Their seed selections are focused on flavor and performance. They carry gourmet vegetable, herb, annual, perennial, and cutting-flower seeds that'll beautify your garden and home.
The seed packets feature lush watercolor illustrations and an extra flap with helpful growing instructions so you can find the perfect spot for planting. And you won't be hunting online for seed depth information, days to germinate, or when to plant because it's all there on the packet!
Renee's runs trials of all their seeds in their test gardens in different climate zones (CA, FL, WA, VT). Whether or not a seed makes it into their catalog depends on "excellence in flavor, color, and ease of growing and garden performance for home gardeners."
What sets Renee's apart from other seed companies?
Although Renee's doesn't have a print catalog, the digital seed catalog is easy to navigate on any device.
With the best-tasting vegetable & herb varieties for garden-to-table living and flowers to enchant your senses and feed the bees, Renee's has something for every gardener!
Free download: How long do vegetable seeds last?
3. High Mowing Organic Seeds
High Mowing Organic Seeds offers over 700 varieties of organic vegetable, flower, fruit, and herb seeds. If that sounds like a lot, it is!
Where their selections really shine are the vegetables. Just looking through the specialty greens and lettuce varieties is enough to make you want to break out the ranch dressing!
The print catalog is well-organized and has colored tabs at the edge of the pages to help you navigate from section to section.
Not only is the catalog filled with gorgeous photos of all the varieties, one of the unique features of their catalog is the pricing tables. It makes it easy to find the price for the size packet you want to purchase.
They also provide helpful information on planting, growing, diseases & pests, and seed specs for each type of seed they offer.
Why buy High Mowing organic seed?
They help you find varieties that'll do well where you live: Search their blog for the vegetable you want to grow. Look for articles titled "how to choose and grow" or "selecting the right varieties." Then find your region on the page.
They have an excellent return policy. "If you are not 100% satisfied with your purchase, please let us know, and we'll promptly offer to replace your purchase or credit your account."
I've had great germination rates from High Mowing Seeds and haven't had to use their return policy. But it's comforting to know they stand behind their seeds.
What sets High Mowing apart from other seed companies?
They're one of the few seed companies that offer 100% organically grown seed. They've been 100% organic since they started selling seeds in 1996.
Each year they donate over 100,000 packets of seed to community gardens, school gardens, church gardens, food bank gardens, summer camps, and disaster relief groups through their Seed Donation Program.
If growing organically is important to you, I encourage you to buy certified organic seeds whenever possible. That makes ordering from High Mowing Seeds a no-brainer!
Visit High Mowing Organic Seeds | Request their print catalog or download a PDF version
4. Joyful Butterfly
Joyful Butterfly has what you need if you're looking to support pollinators like monarchs and bees.
They carry butterfly nectar plants and seeds and butterfly host plants and seeds, including one of the largest collections of milkweed seeds I've seen anywhere!
Many of their seeds and plants are native to the U.S.
And it's easy to find varieties that are native to your state.
They've pledged that:
All of their plants and seeds are safe for pollinators to munch on as caterpillars and sip nectar from as adults.
All of their seeds and plants are neonicotinoid-free.
They use the same seeds they sell to grow their plants so they know how well the seeds perform.
All the seeds I've ordered from Joyful Butterfly have had excellent germination rates and are happily growing and blooming in my garden. (They also sell plants if you're hesitant to start perennials from seed).
NOTE: They can only ship seeds, not plants, to AZ and Canada.
Although Joyful Butterfly doesn't have a print catalog, the website is super easy to navigate on any device. And it's easy to find plants and seeds native to your state.
5. Johnny's Selected Seeds
Regional Adaptation: Northeast U.S.
Johnny's carries a large selection of vegetable, herb, and flower seeds and a full line of gardening supplies. Pretty much everything you need to grow a successful garden.
All the seeds I've ordered from Johnny's have germinated well.
Johnny's trials hundreds of varieties every year at their farm in Albion, Maine, so you can be sure they'll perform well in the northeast.
And if you want to nerd out on things like the best germination temperature for your seeds, Johnny's is the place to go. Their main seed catalog is huge – over 200 pages chock-full of sowing and growing information. (Which new gardeners might find a bit overwhelming).
And they offer a vast collection of growing guides for home and market gardeners in their online grower's library.
Visit Johnny's | Request their paper catalog or download a PDF version
6. Seed Savers Exchange
Regional Adaptation: Specific U.S. regions (down to the state level) are available through the Seed Exchange (see below)
This non-profit organization was a pioneer in the heirloom seed movement in the 70s. Seed Savers Exchange was started in 1975 to preserve the biodiversity of our food by growing and sharing rare heirloom and open-pollinated seeds.
They focus on preserving varieties brought to North America by immigrants and traditional varieties grown by Native Americans, Mennonites, and Amish.
They oversee the U.S.'s largest non-governmental seed bank, with thousands of varieties cataloged and preserved. You can purchase some of those seeds through their catalog and their Seed Exchange (see below).
They carry vegetable, flower, herb, and tree seeds. Many of these varieties can't be found anywhere else. They also offer specialized seed-saving supplies, which are handy when the seed-saving bug bites!
If preserving heirlooms is important to you, check out their heirloom seed catalog, and consider becoming a member.
Visit the Seeds Savers Exchange Catalog | Request a paper seed catalog
6a. Seed Savers Exchange Seed Exchange
Regional Adaptation: Specific U.S. regions (down to the state level) are available
Yep, I know, the name is a bit confusing since the catalog is also called the "seed exchange," but this is totally separate from the main seed catalog offerings.
The exchange is a place where you can purchase seeds from amateur seed growers and the Seed Savers Exchange seed bank. (You can also share your own open-pollinated seeds.) This is how the exchange started – as a way for gardeners to share seeds and keep seed lines alive.
👉 I recommend the exchange to experienced gardeners only. Most listings don't offer detailed sowing and planting information (days to maturity, planting depth, days to germinate, germination temperature).
A major benefit of the exchange is buying seeds that perform well in your region or state.
It's free to join the exchange and look through the online listings.
Join or Sign in to the Seed Savers Seed Exchange | Order a print copy of the exchange yearbook
7. Baker Creek Heirloom Seed
You can find just about any heirloom or rare seed you might want in Baker Creek's paper or online catalog.
This is one of the best free heirloom seed catalogs out there!
The annual seed catalog is now mailed to over 1 million customers. This isn't surprising since it has a heft that most catalogs lack and looks more like a glossy magazine than a seed catalog. And honestly, it might feel overwhelming for some new gardeners.
It has large, beautiful photos and plant descriptions that include its history, why the variety was selected, and ideas for using it in your kitchen or flower garden.
It's hard to not want one of everything!
In a rare move for a seed company, Baker Creek offers free shipping on every order in the U.S.
And when you order from Baker Creek, there's no fear of failed crops. Your seeds are guaranteed to germinate. They offer a satisfaction guarantee of 2 years, which is unusual and shows they stand behind their seeds.
Watch a video from Hooked and Rooted about Baker Creek's 2023 seed catalog
All the seeds I've ordered from Baker Creek have had excellent germination rates and harvest yields.
So, if you're looking for unusual, heirloom seeds, your search is over!
Visit Baker Creek | Request a paper catalog or download a digital version
8. Native Seeds SEARCH
Regional Adaptation: Southwest U.S.
Do you live in the southwest or in a hot, dry environment? Then you know how difficult it can be to find varieties that perform well under those conditions.
Native Seeds SEARCH is a non-profit organization dedicated to promoting & perpetuating traditional seeds that are adapted to arid and semi-arid climates.
They specialize in native, heirloom, and harder-to-find seeds that perform well in hot, dry conditions.
And their descriptions let you know whether a plant is adapted to the low or high desert.
If preserving desert-adapted seeds is important to you, purchase from them. And consider becoming a member.
NOTE: Their paper catalog isn't free, but the PDF version is.
9. Seeds From Italy
Seeds From Italy is the U.S. distributor for Franchi Sementi, Italy's oldest family-owned seed company.
Founded in 1783, the company sells more than 500 varieties of Italian vegetable, herb, and flower seeds, with over 70% sourced from Italian growers.
Their seeds are untreated, most are open-pollinated, and many are certified organic.
Worried about growing Italian seeds in your garden? As Seeds From Italy points out, Italy has four seasons, just like most of the U.S. and Canada. So, the seeds will do well here. They even give you a guide on reading a Franchi seed packet.
My next-door neighbor, born in Rome, has had great success with these seeds.
If you'd like to have a bit of Italy in your backyard and on your table, this is your chance to grow some delicious heirloom varieties!
Visit Seeds From Italy | Request a catalog
10. J.L. Hudson, Seedsman
Warning: when you first open this catalog, you may feel intimidated. (And the website is as no-frills as they come.) There are no beautiful photos, no poetic descriptions, no plant porn.
Just black and white pages full of botanical names, a few line drawings scattered here and there, and short, but intriguing descriptions. (Side note: the vegetable seeds are grouped by common names).
The mind-boggling array of unusual and exotic plants is the reason to get this catalog.
It's a plant nerd's catalog, to be sure.
It makes you focus on the plant and whether it'll thrive in your yard, rather than getting lured by a pretty face and regretting a plant that won't work in your garden.
You don't get as much seed-starting detail about things like planting depth, germination temperatures, days to maturity, and bloom times as you do with other catalogs. So you'll need to do some outside research to get that info.
This is a public-access seed bank, not a traditional seed company with a huge staff. So their ordering process is a bit different than other catalogs. You can either request the paper catalog and mail in the order form or email your seed request to them and send your payment via Paypal.
All the seeds are open-pollinated and come from seed growers worldwide. I've had great germination rates from this catalog.
If you're ready to take the plunge into non-illustrated catalogs, this is the one to start with.
I'd also suggest picking up a copy of The Gardener's A-Z Guide to Growing Flowers from Seed to Bloom. It'll fill in the gaps, such as sowing depth, bloom time, and precise germination temperatures for flowers.
Visit J.L. Hudson, Seedsman | Request the print catalog
More great seed companies that offer a free seed catalog
I hope you enjoy perusing at least one of these free seed catalogs.
Spend some time dreaming, scheming, and planning out this year's garden.
Juicy, homegrown tomatoes are just around the corner!🍅
Download a free seed viability chart
This chart covers seed longevity for more than 125 types of vegetables and flowers!
Here's a sneak peek of the chart: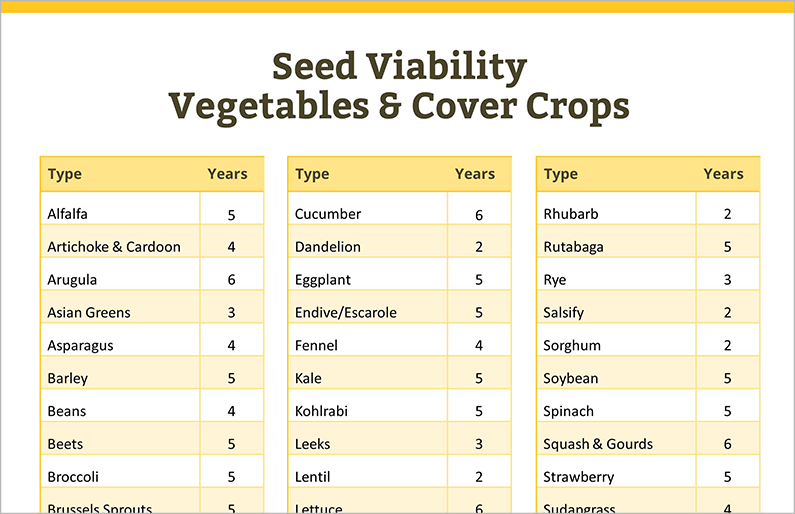 Did I miss any of your favorite free seed catalogs?
What are your favorite seed companies?
Share in a comment below!