9 Best Winter Gardening Books to Read Now [in 2023]
INSIDE: Here are the best winter gardening books hand-picked by a certified gardener to help you grow vegetables in winter inside or out and a beautiful garden all year long.
---
I know you're here looking for winter gardening books, but what type?
My best guess is you want to:
grow vegetables outdoors this winter
grow things inside
or sit in your favorite armchair and read up on gardening while your plants doze under a blanket of snow.
So, I've reviewed all three types. That way, you can quickly find the perfect book for your needs!
Keep reading to discover my favorites.
This post may contain affiliate links. So, I may get a small commission if you buy something after clicking through. I only link to products I would recommend to my best friend.
1. The best books for indoor and apartment gardening
by Zia Allaway
Grow an indoor food garden this year with 28 gorgeous and mouth-watering indoor gardening projects that'll have you growing herbal teas, tiny tomatoes, and edible flowers any time of year!
Beginners will appreciate the easy-to-follow directions and solid advice throughout the book.
You'll be able to identify which plants will thrive in different parts of your home.
You'll learn how to select the right containers, use artificial lights and hydroponics, and use smart planting techniques to ensure your food garden succeeds.
The indoor edibles chart is helpful. It lists the plant, gives a short description, and lists the indoor zones where they'll grow best.
The projects featured are gorgeous and drool-worthy! But this book is also full of practical tips that'll inspire you to grow much more than houseplants this winter.
And the beautiful photography throughout the book makes the instructions easy to follow.
Indoor Edible Garden (Amazon link) makes being self-reliant (even in an apartment) a little bit easier.
by Peter Burke
Year-Round Indoor Salad Gardening (Amazon link) will show you how to grow fresh nutrient-dense salad greens indoors any time of the year (including winter!) with simple, inexpensive equipment. 
You'll learn everything you need to keep your indoor crops thriving and producing, even if you have a small amount of space for growing.
The author wanted to grow greens during the winter despite being a busy professional who works outside the home. So, he included helpful instructions on what to do when your indoor garden gets neglected because your schedule went haywire.
If you've tried growing sprouts in jars before and haven't had good luck, this book is for you.
When you follow the step-by-step instructions, you'll have your first crop of succulent greens in less than ten days!
by Jonas Dupuich
If you're looking to grow something indoors other than edibles or another houseplant, why not try your hand at bonsai?
The Little Book of Bonsai (Amazon link) teaches you how to keep a bonsai tree healthy and happy.
Not only will you learn the basics of bonsai care, like wiring, watering, pruning, repotting, and fertilizing, but you'll also get expert instruction on:
selecting the right container
displaying your bonsai
and choosing the best species
Dupuich covers everything beginners must know to get started with bonsai.
The book includes clear, step-by-step photos that'll help you each step of the way.
From finding the front of your tree to selecting the right tools for training and trimming to learning what key feature to develop for each species, you'll learn how to grow bonsai trees with confidence.
2. The best books for outdoor gardening in winter
Just because it's winter doesn't mean you can't grow and harvest your own food.
Winter can be a great time of year to grow crops.
Winter gardening techniques differ from growing in other seasons, so it helps to have experienced guides who'll help you do it right.
by Niki Jabbour
Learn Niki's simple techniques for growing vegetables year-round.
The Year-round Vegetable Gardener (Amazon link) is a practical guide to cold climate gardening, no matter the growing season. Although it focuses more on vegetable gardening in winter than the other seasons.
She profiles vegetables from asparagus to zucchini and gives you a timeline for planting.
You'll learn when to start seeds indoors, transplant your seedlings, and when to direct sow in your spring and fall garden.
She shows you how to succession plant and protect your crops from the elements with hoop houses and cold frames.
She even provides plans for building the same cold frame she uses in her vegetable garden.
You'll also get in-depth advice on soil preparation and maintenance by using crop rotation, cover crops, and organic fertilizers. Maintaining healthy soil is essential, but especially so when you're growing crops year-round.
If you're new to gardening, this backyard winter gardening book is perfect for you!
Related: 24 of the Best Gardening Books for Beginners
by Eliot Coleman
If you live in a cold climate (zone 6 or colder) and always thought you had to stop growing food during the winter, get ready to have your mind blown!
You'll discover how to grow various winter crops using simple practices and equipment like plastic-covered tunnels and cold frames in the Four-Season Harvest (Amazon link).
And you don't need to live in Florida or pay for an expensive heated greenhouse to do it!
Coleman learned many of these techniques while visiting Southern France – an area that's at the same latitude as his farm in Maine.
It might seem like there isn't enough sunlight to grow crops during the winter, but most U.S. states receive more winter sunshine than the south of France.
You'll get helpful advice on choosing the hardiest varieties and practical, earth-friendly tips for making your winter growing season as productive as possible.
The book covers using mulch, cold frames, row covers, grow tunnels, and cold indoor storage.
As a bonus: the handy planning charts will help you create the perfect planting schedule for your winter harvest. IMHO, these alone are worth the price of admission!
With this book by your side, you'll soon be eating fresh, nutritious, organically-grown winter vegetables.
by Caleb Warnock
Backyard Winter Gardening (Amazon link) takes a unique approach to growing produce in the winter without heat or electricity.
The book focuses on greenhouse gardening, cold frames, and hotbeds. But hotbeds won't work for every gardener.
Creating hotbeds requires that you have access to a lot of fresh manure, which most urban and suburban gardeners won't be able to get their hands on.
But the sections on growing in cold frames and geothermal greenhouses are informative and interesting. And e explains simple, inexpensive ways to build them.
The book covers 22 types of crops for winter growing (everything from apples to turnips).
The tips for selecting the best open-pollinated seeds for cool-season crops and winter growing will help you produce the best winter crops.
You'll also learn the best ways to store your crops in the ground or a cool location, like a garage or cellar.
So, if you're looking for ways to grow more vegetables year-round, have a large lot or acreage, this book is one to consider.
3. The best books for armchair gardening this winter
A lot of gardeners spend the winter making lists and looking through seed catalogs. But winter isn't only for planning. It's also the perfect time to time to study, dream and relax with the help of a few excellent gardening books.
by Val Bourne
Imagine having a garden that's attractive even in the long, cold months of winter.
Instead of spending the winter mourning a garden past its prime, pick up a copy of The Winter Garden (Amazon link). You'll learn how to plan and create an attractive wintertime garden.
Two hundred color photographs and design plans will inspire you to get started.
You'll also get many easy and inexpensive design tips for adding winter interest to your garden.
Suggestions include using colored stones, adding bronze and wood accents, and carefully considering the effect of winter light when selecting and placing plants.
You'll get help with choosing and caring for various flowers, grasses, shrubs, and trees that bring needed texture, structure, and color to your winter garden.
The author also lists cold-hardy plants suitable for containers, which can add winter interest almost anywhere.
by William Alexander
The idea sounded simple at the start: turn a patch of grass into a vegetable garden – a place to grow a few heirloom tomatoes.
Soon that "simple" plan morphed into a much larger garden. A garden that shows how easily the costs and gardening workload can sneak up on you while you're not looking.
The $64 Tomato (Amazon link) is a fun and educational tale of the unintended consequences every gardener will face … like planting four rosebushes, which attract Japanese beetles, which lay eggs, which turn into grubs that destroy his lawn. I'll let you guess about the fate of the rose bushes…
The book's title comes from the financial cost of growing his beloved Brandywine tomatoes. When the book ends, it has been a bad year. Once he added up the expenditures, his tomatoes cost him $64 each. 
It's hard to say whether the accounting is altogether accurate. But from page one, I was caught up in the story and rooting for the author.
It's the perfect book for anyone who loves to read and has even the slightest interest in gardening.
by David L. Culp
In The Layered Garden (Amazon link), you'll discover how to create a garden that blooms all season and looks good when the gardening season ends.
At the heart of the book is Culp's layering technique.
As one plant fades, another appears to take its place.
The result is an ever-shifting palette of color in your garden.
You'll learn how to accomplish this with lessons in selecting the best plants, arranging your plants for the best effect, and the basics of how to maintain them.
The last chapter is a directory of the author's favorite plants sorted by season, with beautiful photos showing each plant in detail.
If you want an ornamental garden that feels cohesive and delights you throughout the year, pick up a copy of the layered garden.
Share your pick for best winter gardening book
Did I miss any great books? Which is your favorite book? Share in a comment below!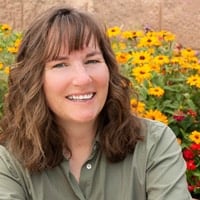 Hi, I'm Cheryl Spencer, a Certified Gardener.
Born with a plant addiction that has no known cure, I became a Certified Gardener to help ease the symptoms. Now I write articles and create gardening products that help you save time and money in your garden. I believe you can grow your dream garden and still have time to enjoy it. The good news? Anyone can do it. Start here »