24 of the Best Gardening Books for Beginners in 2023
INSIDE: The ultimate guide to the best gardening books for beginners. A certified gardener selected her top picks. All are great books for beginning gardeners in 2023!
---
We live in an era of instant everything. Instant rice, instant communication, and most importantly … instant-dry nail polish!
But one thing you can't speed up is your garden.
I learned that lesson when my fourth-grade teacher had us start sunflower seeds in a paper cup.
I woke up each morning excited to see how my seeds were doing.
Had they sprouted overnight? Did they need to be watered? When would they be ready to go outside? When would they finally bloom? How would the sunflower seeds taste when they were ready to be harvested?
That experience taught me hard lessons about patience in the garden. No matter how hard I wished my plants would grow faster, they wouldn't.
But at the end of summer, when those seeds had morphed into 6-foot tall sunflowers with blooms as wide as dinner plates, I became a passionate gardener.
And maybe you want to grow a garden for the same reason.
Or maybe you want:
your family to have greater access to healthy, high-quality food and know where their food comes from
to spend more time in nature, put your hands in the soil, slow down, and reduce your stress
to give your kids the same experiences you had as a kid – like picking ripe raspberries with jammy red hands, eating just as many as you put in your bowl
Or maybe you simply want to bring more beauty into your world.
And even though your garden, like my fourth-grade sunflowers, can't be rushed, there's one thing about gardening you can accelerate.
You can become a gardening expert sooner by investing in a few good books that'll give you the knowledge and confidence you need to succeed.
That's why I've put together this list of the top beginner gardening books.
And even though this list of gardening books is perfect for novices, experienced gardeners will also learn a lot from these books.
As Cicero said, "If you have a garden and a library, you have everything you need."
Well, everything except the instant-dry nail polish!
Heads up: If you buy something after clicking a link in this post, I'll earn a small commission. I only link to products I'd recommend to my best friend.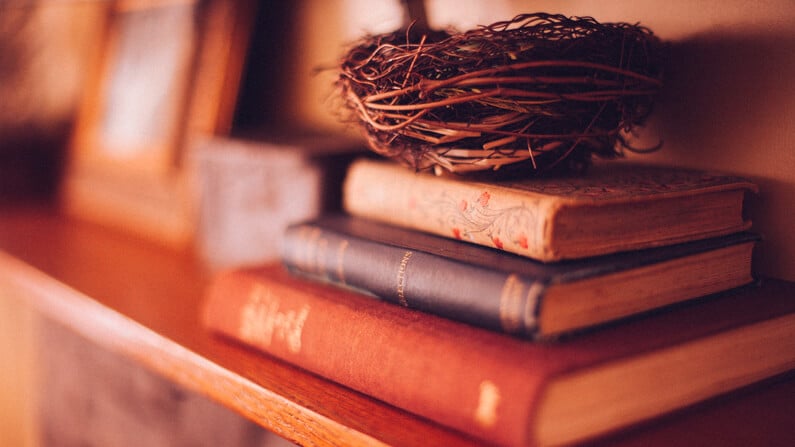 What makes this list of books on gardening for beginners different?
This isn't a compilation of other people's reviews of gardening books, like other lists you may come across online.
I'm pretty obsessed with gardening books and have read hundreds of them.
I own and have read (and have used) all the books on this list.
And I have high standards for what makes it onto this list. There are plenty of so-so beginner gardening books out there, but you won't find them here!
A gardening library filled with quality gardening books will improve your gardening skills no matter how long you've been gardening.
After all, no one's born knowing how to garden!
Best beginner gardening books (my top 4 picks)
by Stacy Torino
Think you have a black thumb? Get ready to change your mind! Stacy gives you practical advice about the most dependable plants you can grow.
With more than 100 easy-to-grow vegetables, flowers, herbs, trees, shrubs, and even houseplants to choose from, there's something for every newbie in Plants You Can't Kill (Amazon link). If you get just one gardening basics book, this should be it!
by Linda Chalker-Scott
This book will change how you garden! Understanding how plants work is vital to being a successful gardener.
And How Plants Work (Amazon link), written by a horticultural expert, is easy for non-scientists to understand, so you'll be able to pick up basic gardening terms quickly.
It has a conversational style and is filled with interesting and useful information that'll help you make more informed choices in your garden and give you two green thumbs!
by Jeff Gillman
If you've spent any time online searching for answers to your garden problems, you've seen plenty of home remedies out there. But which ones really work? Is Epsom salt a miracle cure like some claim? What about using vinegar on weeds? And does corn gluten really work?
You'll get answers to these questions and more! The Truth About Garden Remedies (Amazon link) offers something for all gardeners, no matter how experienced you are.
4. The Month By Month Gardening Series (for U.S. gardeners) by various authors
Written for U.S. growers, these regional garden guides tell you what to do and grow month-by-month in your state or region. They cover soil building, ornamental gardens, lawns, veggie gardens, and shrub and tree care.
They're the perfect introduction to gardening in your region for first-time gardeners!
Find your state or region in the list below (Amazon links):
Prices last updated on 2023-12-08 at 03:42
Best vegetable gardening books for beginners
by Edward C. Smith
This organic guide to gardening is my favorite vegetable gardening book.
You'll learn how raised bed gardening and organic methods will make your vegetable garden more productive.
This is the gardening roadmap you need if you're new to gardening or have been gardening for a few years but don't feel like you've gotten the hang of growing edible plants. The Vegetable Gardener's Bible (Amazon link) includes almost every vegetable and culinary herb you might want to grow and has detailed growing information, including raised garden and vertical growing tips.
You'll discover how to set up your organic garden by first creating healthy garden soil. And with the easy-to-follow instructions, a list of the author's favorite gardening tools, and tips for pest control, you'll be ready to grow delicious vegetables in no time!
by Jennifer and Ron Kujawski
Best for: backyard vegetable growers who live in cold climates (zones 4-6).
You'll learn how to manage your planting schedule and prioritize what's important in your vegetable garden.
It's the perfect book for garden planning because you'll always know what to do and when to do it.
And it's filled with gardening tips throughout including help with making the most of your space and vertical growing.
If you live outside zones 4-6, The Week-by-Week Vegetable Gardener's Handbook (Amazon link) might not work for you.
by Niki Jabbour
Learn Niki's simple techniques for growing vegetables year-round. The Year-Round Vegetable Gardener (Amazon link) is a fantastic guide to growing vegetables whether or not you're interested in gardening year-round.
She profiles vegetables from asparagus to zucchini and gives you a timeline for planting. You'll learn when to start seeds indoors, transplant, or direct sow in both spring and fall.
And as a bonus, she provides detailed instructions for building the cold frames that are featured in the book!
by Acadia Tucker
While this book is designed for gardening newbies, it'll appeal to experienced growers who want to widen their garden palette to include these more resilient crops.
Depending on where you live, some of the plants listed in Growing Perennial Foods (Amazon link) won't be true perennials for you, but many will be.
And as a bonus, after each plant profile, there is an easy yet delicious recipe that'll encourage you to eat the unusual varieties you've grown.
Related: The Ultimate List of the Best Vegetable Gardening Books
Best flower gardening books for beginners
by Lewis and Nancy Hill
Grow the flower garden of your dreams with The Flower Gardener's Bible (Amazon link). It's loaded with expert advice for new and experienced flower gardeners. Learn how to plan for all-season bloom, prepare your soil for planting, and care for your flower garden. This is my top pick for learning how to grow flowers.
by The Smithsonian
With more than 2,000 recommendations in the Encyclopedia of Garden Plants for Every Location (Amazon link), no matter where you live, you'll find flowers and ornamental plants that'll work in your garden. With detailed descriptions and beautiful photography, this enormous book deserves a place on every flower gardener's shelf.
by The Editors of Creative Homeowner
You'll learn crucial flower gardening techniques such as how to improve your soil, design your flower garden, and care for your flowers.
Growing in a limited space? It includes tips for growing flowers in containers.
This guide has more than 600 photos and step-by-step instructions.
And the garden design section alone is worth the price of Annuals, Perennials, and Bulbs (Amazon link). Learn how to use color in your garden, select the right plants, and where to place them.
by Adrian Bloom
How do you know you're making the right choice when selecting perennials and grasses for your garden?
With 250 choices that are reliable, beautiful, and easy to maintain, you'll find answers in Bloom's Best Perennials and Grasses (Amazon link). Adrian supplies growth, care, and design tips that you can use no matter how much space you have.
Related: The Ultimate List of the Best Succulent Books for Beginning & Experienced Growers
Best organic gardening books for beginners
by Barbara Damrosch
You'll find wise and practical advice on planning a garden, recommended plants, pest management, and the best tools to buy. Entire chapters are devoted to every type of plant, from annual flowers to vegetables.
While there are books that cover these topics in greater depth, you won't find a better introduction to organic gardening than The Garden Primer (Amazon link).
If I had to recommend only one gardening book to new organic gardeners, this would be it!
by Lee Reich
While there'll always be some weeds in your garden, the simple and easy methods taught in Weedless Gardening (Amazon link) will show you how to keep them to a minimum by ditching the conventional advice to till your soil.
You'll also learn how to reduce your water use, protect your soil, and grow healthy plants. And you get helpful information about growing vegetables and flowers.
It's the perfect introduction to self-sufficient organic gardening!
by Stu Campbell
All organic gardeners should know how to make good compost. But a lot of information about composting can seem intimidating when you're new. How do you get the carbon, nitrogen, moisture, and oxygen levels right?
This easy-to-understand guide breaks everything down with no fluff added and tells you what you need to know to get started. Be sure to leave space on your shelf for Let it Rot (Amazon link).
by Jeff Gillman
The Truth About Organic Gardening (Amazon link) takes a nuanced approach to the common belief that all organic products and practices are "good" and all conventional ones are "bad."
You'll learn how to think about what you're doing in your garden and why you're doing it. And in the process, you'll make well-informed, more effective choices for your garden.
Best garden maintenance books for beginners
by Nancy J. Ondra
If you grow any perennial flowers, you should own this book! This book is written in an approachable style for new gardeners and gives general perennial care advice in addition to detailed information on 125 popular perennials.
You'll learn what perennial flowers to choose for your garden, and how to take care of them. If you only own one perennial care book, The Perennial Care Manual should be it! (Amazon link)
by Tracy DiSabato-Aust
Absolute newbies may find The Well-Tended Perennial Garden (Amazon link) intimidating. But once you get your feet wet with growing perennials, it's an excellent companion to The Perennial Care Manual (Amazon link).
It includes thorough details on the essentials of perennial care—including deadheading, pinching, thinning, and dividing. But it also covers detailed growing information for many perennials and includes a monthly planting and urban gardening maintenance schedule.
One of the best features of the book is the thirty-six different lists of plants sorted by maintenance requirements. These help you choose plants from a particular list (tolerates clay, drought, deer, etc.) and then go back to the alphabetical listing for more information about that plant.
by Penelope O'Sullivan
Have trees or shrubs in your yard, or want to grow more? Then you need this essential guide to choosing, planting, and maintaining trees and shrubs.
With a focus on selecting the right plant for the right space, you'll learn how to add texture and shape to your garden with trees and shrubs. The Homeowner's Complete Tree & Shrub Handbook (Amazon link) includes more than 350 plant profiles and discusses the best cultivars. You'll also learn how to care for your selections.
by Gordon and Mary Hayward
Perfect for beginners and intermediate gardeners, this book will help you keep your garden or homestead looking its best year-round.
All the seasonal tasks you'll need to do are detailed in Tending Your Garden (Amazon link): preparing a garden bed, pruning trees and shrubs; planting, staking, and dividing perennials; and edging, deadheading, and weeding. You'll also get many tips to help you reduce garden maintenance.
Best books about weeds, insects, diseases, and pests
by Richard Dickinson
Every garden will have some weeds. And to defeat your weeds, you have to be able to identify them. That's where this book has your back. It covers more than 600 species at every stage of growth.
My favorite thing about Weeds of North America (Amazon link)? It has close-up photos, which makes identification easy!
by Whitney Cranshaw
This is the most comprehensive guide to the insects you'll find in your garden! Featuring 3,300 full-color photos and detailed descriptions, this book covers the hundreds of species of insects (good and bad) that you'll find in your garden.
Garden Insects of North America (Amazon link) tells you where you're most likely to find the insects, which is helpful for identification. (Dr. Cranshaw was one of my instructors when I became a certified gardener, so I can tell you firsthand he knows his stuff!)
by David Deardorff and Kathryn Wadsworth
It can be difficult to diagnose and deal with a sick plant when you're new to gardening. What's Wrong With My Plant? will help you get to the cause of the problem quickly and suggest solutions. It also includes photos of common plant problems, which makes identification easier for newbies.
by Ruth Rogers Clausen
As a new gardener, your first thought when you see deer in your yard might be, "Bambi's come to visit!" But after they've chewed your precious plants to the bare stalks you'll start wondering why hunting isn't allowed in the city limits.
The problem? You've most likely planted some "deer candy" – the flowers and plants the deer love the most. With 50 Beautiful Deer-Resistant Plants by your side, you'll discover what deer do and don't like to eat. Plant more of what they don't like, eliminate their favorite treats, and they'll stay away.
Share your pick for the best beginner gardening book
Did I miss any great books on growing flowers or vegetables?
What do you think is the best gardening book for beginners? Share in a comment below!