11 Best Succulent Books Will Help You Grow Healthy Plants
INSIDE: Read this before you buy any books about growing succulents or cacti. It's the ultimate list of the best succulent books. Each book was reviewed and recommended by a certified gardener.
---
We've all done it.
You spot an adorable little succulent at the store. And think to yourself "I have the perfect spot for this at home!" So, you happily pick it up and put it in your cart.
But after you get it home, you wonder things like:
How much water does it need?
Is this room bright enough?
How long will it take for the leaves to fall off and turn into a mushy blob like the last one I bought?
You want this little guy to survive.
Fortunately, there's a simple solution…
And it's the secret to growing healthy succulents!
Instead of relying on hit-or-miss information scattered around the internet, the best thing you can do for your new plant is to invest in a book or two about succulents.
You'll get expert advice from people who've been growing succulents for years, and you'll save yourself a lot of time and heartache.
The right book will help you choose the best plants for your situation and will change the way you care for your succulents, for the better.
But there are a lot of succulent books out there, and it's hard to know where to begin.
So, I've put together a list of the best succulent books available.
With books that range from beginner to intermediate levels, you'll find something to fit your needs!
This post may contain affiliate links. So, I may get a small commission if you buy something after clicking through. I only link to products I would recommend to my best friend.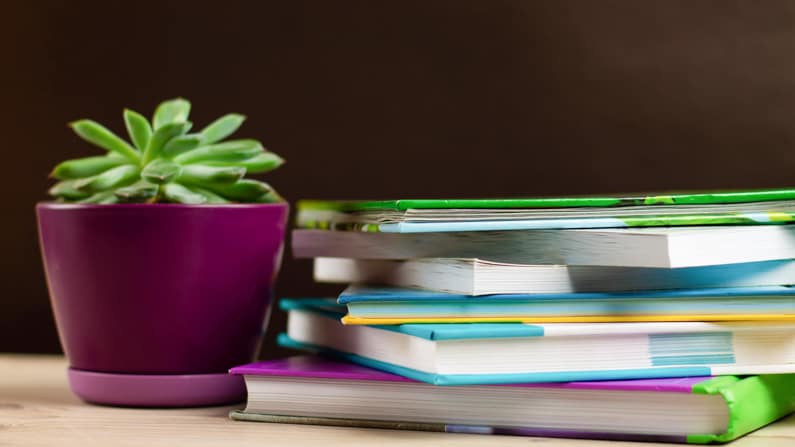 Best succulent identification books
If you need a succulent identifier, look no further! Succulent Plants of the World (Amazon link) is the encyclopedia of succulents. It covers over 2,000 succulents and is a must-have for anyone who wants to learn about unusual species and varieties of succulents (and cacti) grown worldwide.
It's a comprehensive and fascinating book on succulents. Each plant profile includes information about the plant's native habitat, history, cultivation requirements, and uses.
If you want to see pictures of all 2,000 plants in the book, this might not be the book for you. It covers 2,000 plants but has only 750 photos. So, quite a few entries have only descriptions. Even so, in my opinion, it's the best succulent identification book and is a valuable source of information for succulent and cactus enthusiasts!
Related: How to identify plants with Google Lens (including succulents).
by Jeff Moore
Looking for a succulent coffee table book? It's easy to get lost in the beautiful photos inside Under The Spell of Succulents (Amazon link).
With 800 stunning images, the author highlights the unique botanical structures of these addictive plants.
The book gives ample space to beautifully landscaped gardens, container gardens, and delightful vertical gardens where living plants become gorgeous wall hangings.
But it's not only beautiful. It also serves as a useful identification guide. With so many large detailed photos and the Latin names given for each plant, it makes succulent plant identification a pleasure. That alone makes it one of the best succulent books you can own for identifying succulents.
This is the perfect coffee table book for succulent lovers!
Best books on cacti and succulents
by Ken Shelf
You'll find everything you need to know to grow 50 of the best succulents for beginners in this user-friendly guide. And you'll discover what kind of growing conditions your new succulents need to thrive.
Each succulent profile in Essential Succulents (Amazon link) lists detailed care and growing instructions, things to watch out for, and tips for using them in arrangements.
You'll also find design tips for indoor and outdoor container gardens and helpful propagation instructions. Yes … you can easily make more of your favorite succulents for free (even as a noob) when you follow Ken's instructions.
As a bonus, the last chapter in Essential Succulents (Amazon link) is full of instructions for fun, imaginative succulent projects like birdfeeders and mason jar terrariums.
About the author: Ken is an expert on succulents. He's sold succulents at his store, Succulence, for over a decade and teaches classes on raising succulents and vertical gardening.
by Cassidy Tuttle
Although The Idiot's Guide to Succulents (Amazon link) is geared toward beginners, it's one of the best for succulent care instructions. So, even experienced succulent owners will find this book useful.
This book includes a little of everything. You'll learn how to water, trim, re-pot, and propagate your succulents. And most importantly, you'll learn how to create your own soil mix – the kind that'll set your succulents up for success.
Cassidy also gives excellent tips about topdressing, choosing the best containers, and purchasing quality succulents. And there's a reason this is one of the most popular books on succulents – she has a knack for breaking things down and makes even complicated topics simple to understand.
The last third of the book covers the care needs of 100 succulents, with charts broken down by color and height, which makes it easy to choose the right cultivars for arrangements. As a bonus, the photos in this book are stunning, which makes it a pleasure to read!
Related: Books for First-Time Gardeners
by Leo Chance
Think you can't grow cacti and succulents where you live? Cacti and Succulents for Cold Climates (Amazon link) will change your mind! This is one of my favorite books on growing hardy succulents.
In this thorough and practical illustrated guide to cold-hardy cacti and succulents, you get detailed propagation instructions – both from seed and cuttings. You'll learn how to prepare your planting beds, get your plants off to a good start with proper planting techniques, protect your plants from cold winters, and how to water them.
Inside you'll find 274 plants to create drought-resistant gardens even if you don't live in the desert. I guarantee it'll inspire you to plant your own cold-hardy succulent garden!
by Debra Lee Baldwin
This beginner's guide covers 100 types of succulents … BUT it focuses on outdoor growing more heavily than indoor. If you live in a warm growing zone (8 to 11), Succulents Simplified (Amazon link) is an excellent introduction to growing succulents in your climate.
If you're looking for a beginner's guide to growing succulents indoors, Essential Succulents or The Idiot's Guide to Succulents (described above) are a better choice for you.
Succulents Simplified (Amazon link) will help you navigate basic succulent care and propagation. Inside you'll find design ideas, DIY projects, and much more!
Aside from the design tips incorporated throughout, some of this book's most useful features are the multiple charts. For example, a list of beautiful succulents that do well in low-light areas, a "what's wrong with my plant?" chart, and a checklist for a gorgeous (outdoor) succulent garden are just a few charts you'll find inside.
And the second half of the book is devoted to profiles of 100 easy-to-care-for succulents. Each profile includes a photo, details on mature size, hardiness zones, design tips, and care instructions.
Related: Winter Gardening Books
In Designing with Succulents (Amazon link) you'll learn how to create entire garden beds using only succulent plants.
Although this book does cover cold-hardy succulents, the number of cold-tolerant plants to choose from gets smaller the farther north you live. So, much of this book may not be useful to you unless you live in a growing zone warm enough for succulents to survive over the winter (zones 8-11). Cacti and Succulents for Cold Climates (Amazon link) would be a better choice.
But if you live in zone 8 or warmer, this book will help you design a succulent garden you love! No more randomly sticking a succulent here or there in your garden.
Debra explains the principles of garden design and how to use them to create beautiful succulent and rock gardens. Each chapter starts with a featured garden, which will give you lots of ideas for creating your succulent garden.
And the book goes into detail about growing, propagating, and caring for your succulents. It's a must-have for anyone serious about growing succulents outdoors!
by Debra Lee Baldwin
If you want to grow succulents in containers, Succulent Container Gardens (Amazon link) will help you create stunning succulent displays.
Inside, you'll find easy-to-follow tips on soil mixes, watering, overwintering your containers, propagation, and more. Overall, this book focuses more on design than cultivation.
It is chock full of gorgeous photos and has descriptions of 350 succulents and related plants, from agaves to yuccas. It also contains plenty of helpful reference charts. I especially love the design-oriented plant lists such as succulents for height, fillers and "cascaders," and cold-hardy succulents and cacti.
Would you like to multiply your collection of succulents into dozens—or even hundreds—more? Succulents - Propagation (Amazon link) provides detailed step-by-step information on how to propagate both easy and more difficult species of succulents. Experienced growers share their techniques on how to propagate just about any succulent, sedum, or cactus.
New and experienced succulent growers will find helpful information in this book. You may never need to buy another succulent again!
In Agaves (Amazon link) Greg Starr discusses 75 varieties and cultivars that are well-suited to gardens.
Each plant profile includes all the growing info you'll need: hardiness, sun exposure tolerance, water needs, soil requirements, and how to propagate. One of this book's unique features is the series of photos that shows the stages of growth as each plant matures.
The author also included helpful information and lists that'll guide you to the right agave for your situation: frost-hardy, tender, xeric, and by size.
It's a fascinating and well-written book with a down-to-earth style. Bottom line? If you love agaves, you'll love this book!
Get ready to color 31 full-page complex yet calming images. This is by far one of my favorite adult coloring books!
The heavyweight paper is superior to other coloring books, so you can use pencils OR markers in Stunning Succulents (Amazon link).
The designs are printed on only one side of a page. And each page is micro-perforated, so it's easy to remove and display your artwork.
From burro's tail to cacti to succulent container gardens, these stunning designs await your creativity!
Your turn: Share your pick for best succulent book
Did I miss any great books?
What do you think is the best book on succulents? Share in a comment below!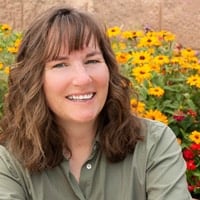 Hi, I'm Cheryl Spencer, a Certified Gardener.
Born with a plant addiction that has no known cure, I became a Certified Gardener to help ease the symptoms. Now I write articles and create gardening products that help you save time and money in your garden. I believe you can grow your dream garden and still have time to enjoy it. The good news? Anyone can do it. Start here »